We hang socks from the mantle at Christmas time in hopes that our sock will get magically filled with our favorite candy or some cute little gifts on Christmas morning. Few people hang up real socks, those kind you actually wear on your feet, for Santa to fill these days. But sometimes those real socks that keep the feet warm or look cute might be gifts you've given or received. Maybe you've knitted some socks yourself. Most youngsters aren't too happy to get socks, but my son-in-law actually asks for socks for Christmas. So socks can be a gift of love and caring and a chance to have some fun with gifts as this story from Lynn shows.
My Christmas story….. For a number of years, my granddaughter was heavily into ballet. As you probably know, ballet can be brutal on the feet. So during those years along with a few regular Christmas gifts, I would send comfy socks, some infused with aloe to relax in and wear around the house. Camouflaging the gift so she wouldn't guess they were socks was a challenge sometimes.
One year in particular, I sent a metal tube with a beautiful Christmas scene. The first item out of the tube wasn't a pair of socks, but connected to that first gift on a long stream of ribbon were ten different pairs of comical and/or comfy socks, each with a special wish. She was delighted.
After a few years in succession, I thought I'd be tricky. Instead of sending her a bunch of socks, the socks went to her mother (a very talented and caring teacher) along with funny notes. I think my granddaughter enjoyed laughing at her mother's surprised look.
Oh yeah, I couldn't pass it up though. I gave my granddaughter a really funky pair of socks that year that looked similar to the ones seen on the cover of The Cat in The Hat. Each had individual sections to comfort each toe. So that's my Christmas story. I hope in years to come it will be a pleasant memory and a story that my granddaughter will impart to her own children at Christmas time.
Thanks, Lynn, for sharing your "sock" story. Sounds as if socks made for some fun times around your Christmas trees and showed your love for your granddaughter.
Isabelle tells about a time when she had her eyes opened to how love can make a gift one you will never forget. Her story happened almost eighty years ago, but it's one that taught her a lesson about the true meaning of gifts at Christmas. Here's her story.
"I don't remember any special gift I've given, but I vividly remember one I received when I was about 8 (I'm now 87). It was Christmas vacation, and I had my tonsils out then so I wouldn't miss school! I sulked and felt abused and wouldn't let anyone console me. On Christmas day, (this was during the Depression) I got up to a beautiful dollhouse my grandfather had made me out of scrap wood. My grandmother, a tailor, had upholstered furniture out of scraps. My aunts and mother and dad had made the furniture out of cardboard. It was a wonderful gift, and I am still abashed when I remember the effort and love with which they had worked while I was stomping around the house. It was an episode I've never forgotten and now I take things as they come and just feel blessed. I've a happy family, (they might disagree over politics and such), but children, grandchildren and great grandchildren always stand up for each other."
Thank you, Isabelle, for that sweet story. And a happy family is truly a blessing and a wonderful gift for a grandmother to have.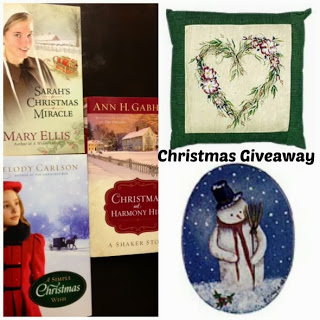 Those are the stories for tonight. I'll be drawing for the winner of my Christmas giveaway prizes on Tuesday night. So if you haven't entered, you've got a couple more days to throw your name in my giveaway hat. You might win a prize of a pillow or books. Be sure to tell me if you "never win." That will give you a chance to win a book and snowman pin. Details on my
website news & events page
.
As always, thanks for reading. I always enjoy hearing from you too. Wishing you a very happy New Year!