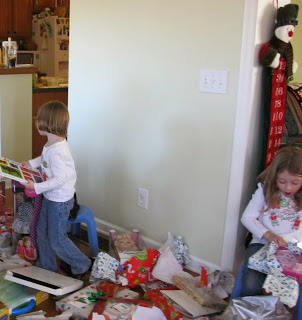 "One of the most glorious messes in the world is
the mess created in the living room on Christmas day. Don't clean it up
too quickly." ~Andy Rooney
Merry Christmas, everybody! I hope you had one of those glorious messes on your living room floor or if not on your floor then you witnessed the mess of Christmas gift opening on another floor of the house of someone dear to you.
The Spirit of Christmas Giving
The spirit of Christmas giving is alive and well in most households with excited children running to check what they can find under the tree on Christmas morning. And sometimes we discover the truth of that saying that it is more blessed to give than receive.
The Joy of Giving
Here's a story Gladys shared about a time she embraced that blessing. "When working in the junior
department at our church, I became acquainted with a family that had five young
children and it was obvious they would not get much for Christmas. The
mother could barely dress the children for Sunday School, but they attended faithfully
and were very well behaved. I handmade presents for each of those
children for Christmas. I did not give my gifts at church, for it
could not be done unseen. I took them to their home. It was so
delightful to see the eyes of those children light up. Their
mother sent me a note thanking me for remembering her children. I
will never forget that night or those children."
And Kathleen tells of a time when selfless giving brought her joy. "The best
gift I gave was the one the Lord had to remind me. Money to a single mother
anonymously in a card that I wrote, "This is for you for perfume or
anything you might want for yourself." After Christmas we were
side-by-side in the parking lot after church. I rolled down my window and asked,
"How was your Christmas?" The little girl bounced on the seat and
with a big smile said it was wonderful. I never told and it gave me such joy!"
Christmas is Love
And last here's a story that really touched my heart and that I saved to post today on Christmas Day. Such wonderful love this man showed for his wife and isn't that what Christmas is all about – love? But I'll let Karen tell the story in her own words.
"This is not the worst gift but
the best Christmas present I ever received was from my husband after he
died. In September of 1991 my husband asked my son to take him Christmas
shopping for my gift. He died a month later. He knew he wouldn't be
here at Christmas. We talked that I would finish my accounting degree
after he died. At Christmas my son said that he didn't understand the
gift that Pop picked out and that he arranged with the shop owner that I could
get an exchange. The gift was a briefcase and a most wonderful note that
said, 'I'll be with you everyday when you go back to
school.' I did get my degree and I took him to school everyday."
Merry Christmas
Thank you for sharing your Christmas gift stories. May you be blessed with the abounding love and joy that makes up what we call Christmas Spirit.
"For there is born to you this day in the city of David a Savior, who is Christ the Lord. And this will be the sign to you: You will find a Babe wrapped in swaddling cloths, lying in a manger. And suddenly there was with the angel a multitude of the heavenly host praising God and saying: "Glory to God in the highest, and on earth peace, goodwill toward men!" (Luke 2:11-14 NKJ)