When
we recall Christmas past, we usually find that the simplest things –
not the great occasions – give off the greatest glow of happiness. ~Bob
Hope
I've been having a great time sharing forward some of the stories you've shared with me about the best and at times, the worst gifts you've given or received when you entered my Christmas Giveaway. (Check out my website News and Events page for details if you haven't entered and would like to. It's easy.)
Our Christmas celebration with our kids and grandkids was Saturday. We celebrate early because some of my kids had to work Monday and so need to make the travel home on a weekend. Also they all need to have the special time as families around their own Christmas trees on Christmas morning.
Forever Friends

We had a fun family day of food and gifts and connecting. Because my children live in different states they don't get to see each other as often as they would like. When I grew up I saw some of my cousins nearly every week and we had so much fun together. Other cousins lived away and we only saw them a couple of times a year. That's the way it is with my grandkids. They only see each other a few times a year so it's fun for me to watch them connecting at Christmas. I suppose all mothers want their children and grandchildren to be forever friends, to know that wonderful bond of family. For grandparents, that might be the best part of Christmas. We're no longer eager for gifts, however nice they are and we did get some nice ones. But the best gift is seeing our family together.
It is Christmas in the heart that puts Christmas in the air. ~W.T. Ellis
Some Best Gifts
Still we do fill those boxes and wrap them up in pretty paper and hope the people tearing into them will find some joy in the contents. So here are some of the presents you've told me were the best you gave or received.
Alla says she treasures the nativity set she got when she was a newlywed.
Dawn says books and the gift of reading is a present hard to beat and I agree. I give all my grandkids and kids a book every year and hope I've found stories that will spark that reading joy.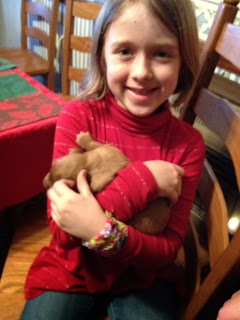 Carolyn says, "
One of my best Christmases
was when I was eight years old (I am now 70 years old). I badly wanted a
blue parakeet for Christmas. You can imagine my joy when I received one.
I named him Chippy and he lived until I was 18 years old. He was
the best bird I ever had and a true friend."
And Tish says it's hard to beat a puppy as the best gift. This is my little granddaughter checking out puppies at her aunt's house. The puppy is much too little for gift giving right now, but it's easy to see it would be a pleasing present for her.
Here's a story from Susan about a special family gift to her parents.

"One year for Christmas my sisters and I gave our parents sweatshirts with all
the grandkids' handprints on them. One of the best things about that was
that Mother and Daddy carried them all over Texas and didn't know what they
were. I put my kids' handprints on them, then boxed them up. My
parents were going to see my sister, so I asked them to take the box to
her. She put her kids' handprints on them and boxed them back up. When my parents left her house to go see my other sister, she asked them to
take the box and give it to her. After she did the same thing, she asked
them to take it back to me. They were very confused as to why they were
carrying this box to everybody and they didn't know what was in it. That was one of the best gifts. Not only for the gift, but because of how
it got to them."
Don't you know Susan's parents loved that gift and laughed about how they carried that treasure all over the country.
A Treasure Box of Love and Healing
Then last, we have a loving gift from one friend to another. I'll let Bobbe tell you about her gift. "I recently gave a Christmas and healing gift to a dear friend
who unexpectedly and recently lost her 37 year old son to cancer. I call my gifts my treasure boxes of love and happiness. Since
we grew up in the 50's I enclosed lots of fun and funny things from that time
period. I also added a set of Jacks and Balls so she could sit on the floor
with her grandchildren and teach them some of our favorite Jacks games.
Putting together lots of cute things from our childhood days as well as some
practical things from today.
My goal was to take her mind off the pain and hurt by making her a Treasure box of Love and Healing. She was thrilled and can't
wait to have her grandchildren join her in making and playing with all
the fun things her box contains. So I think this is one of the best gifts I have given to a dear
friend."
A gift wrapped in love is the best ever, and that's what Bobbe wrapped around her gift.
Christmas
– that magic blanket that wraps itself about us, that something so
intangible that it is like a fragrance. It may weave a spell of
nostalgia. Christmas may be a day of feasting, or of prayer, but always
it will be a day of remembrance – a day in which we think of everything
we have ever loved. ~Augusta E. Rundel

Merry Christmas to all of you! And thanks for reading. I love hearing from you all.