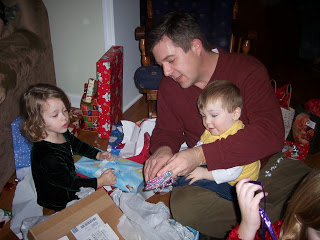 "The best of all Christmas gifts around any Christmas tree: the presence of a happy family all wrapped up in each other."
~Burton Hillis
The Gift of a Happy Family
Christmas is almost here for me since we are celebrating our family Christmas early. Some of my family has to travel a ways to get home and so a weekend celebration works better. Besides, the families with kids want to have time for Christmas morning around their own trees. Our children don't stay kids for long, but Christmas morning can be such a fun and joyous time with them while the magic of Christmas shines in their eyes.
"Our hearts grow tender with childhood memories and love of kindred, and we are better throughout the year for having, in spirit, become a child again at Christmas time." ~Laura Ingalls Wilder
A Box of Rocks
How many of you have teased those in your family by telling them they aren't getting anything for Christmas but a box of rocks? Or a lump of coal in their stockings? Or even worse, a bundle of switches? Kim has a story for us about that box of rocks that gave her family some laughs.

"This wasn't the best or the worst gift we ever gave, but it
certainly created the most laughs. My dad was a big deer hunter and
always got at least one so we could have venison throughout the year. One
Christmas, my sisters and I saw three concrete statues of white-tailed
deer. So we pooled our money and bought them for Mom and Dad to put in
the back yard. Of course, we had to wrap them in a big box. It took
all three of us to carry it from the tree to their chairs in the living
room. When we dropped it (literally – that sucker was heavy!), Dad said,
"What is that? A box of rocks?" Which made us all laugh, because
technically that's what it was. From that Christmas on whenever someone
got a really heavy present, someone would always ask if they were getting a box
of rocks."
A Gangs of New York Gift
Kim's dad enjoyed that "box of rocks." But sometimes when we're thinking about what to get for a mom or dad, we forget that our sisters or brothers might be thinking of the same gift. My sister-in-law and I bought my husband's mother the same thing for Christmas so often that it became a kind of family joke. After a couple of years, you'd think we could have figured out that a phone call might be in order to see what the other one was getting for my mother-in-law. Maybe we thought she needed two of whatever. Instead, on Christmas Day, we just hoped she picked our present to open first. 🙂 Annemarie tells about something the same happening in her family that still has them laughing.
"I have a fun story that isn't really
a best or worst, but one that could have been disappointing but instead caused
a lot of laughter and a family story. A few Christmases ago my Dad sent
out his Christmas list. He is always hard to buy gifts for because he doesn't
really ask for much. There are 4 of us siblings and we all want to get him
something he likes and hopefully not a repeat. That happens occasionally
because there isn't a lot on his list. Well, that year I picked up a book he
had on his list and a video "Gangs of New York".
Christmas Eve came and we were
opening gifts and it was my Dad's turn. He opened a few gifts and then one from
my youngest brother…..yes, it was "Gangs of New York." So I was disappointed that we had a
repeat of the gift. The next gift he opened was from my
sister and it was…."Gangs of New York".
So, now I'm trying not to laugh out
loud because I knew what was coming. Sure enough, my present was next and
we all had a laugh when he opened it and it was " Gangs of New York." When my other brother's gift turned
out to be the same video we were all in hysterics and the phrase "Gangs of
New York" became a family catchphrase that really takes away the
disappointment of a duplicate gift. We all remember that Christmas when my Dad
received 4 copies of the same video. And to this day hope that our gift will
not turn out to be a "Gangs of New York" gift.
More than Gifts
It might have been the same gift, but it showed they were all wanting to please their dad. And isn't that what we all want when we're hunting gifts for our loved ones? We want our gifts to show our love. And then we find out that, although we love giving gifts and getting those loving gifts, Christmas is more than gifts.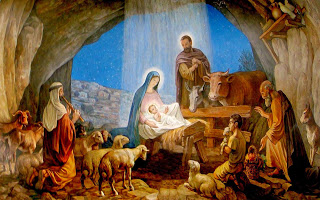 Take it from the Grinch who tried to steal Christmas. "Then the Grinch thought of something he hadn't before! What if Christmas, he thought, doesn't come from a store. What if Christmas…perhaps…means a little bit more!" (How the Grinch Stole Christmas! by Dr. Seuss) And that's because of the perfect gift born in a stable long years ago. A perfect gift of love.
Merry Christmas to all of you! And thank you for the stories you've shared with me. Your stories and comments mean so much to me. You still have time to enter the giveaway if you haven't. You can see more about in on my website, www.annhgabhart.com. Check out the News and Events page there. Enter by sending me an e-mail or by leaving a comment here with a way to contact you if you turn out to be one of the winners.
And keep hunting for that great gift. You've still got a few shopping days left!