Gifts of time and love are surely the basic ingredients of a truly merry Christmas. ~Peg Bracken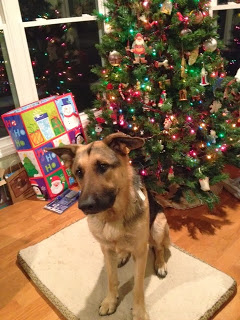 What makes Christmas such a special time of the year? What stirs up the Christmas spirit in our hearts and makes us want everybody to be happy on Christmas Day? Love is the main reason. God's love for us that resulted in the first Christmas, and our love for the Lord and for our families and friends.
And because we love we want to give gifts that show that love. Mandy was able to do that with a gift to her brother. Here's her best gift given story.


"My brother is a country music singer and he is always traveling from home to Nashville, TN. I just thought he needed something to take with him from home while he is away. So, I made him a quilt. I worked so hard on it…I'm not a great quilter. I embroidered a square in the middle with a guitar, a guitar pick, and a microphone on it. My brother doesn't show emotion very much, but he did when I gave him his quilt. He hugged me and cried and then said very quickly that he need to go outside for a minute. I loved that he loved it. Now he always takes it with him wherever he goes so he can have a little bit of home wrapped around him."


Aww, Mandy, that's such a sweet story. But Robin has those best family gifts figured out. Here's what she said, "Best gift given or received! Hmmmm……..I have to say that is a really hard question. Yes, our family exchanges gifts, but it isn't about the presents for me. I only remember being together as a family. Going to my grandparents as a child and now going to my parents' house with my children. It's family! Only family. That is the perfect gift. The gift of being together."


Beautiful thoughts, Robin. Thanks for sharing. May we always remember those blessed times with our families.
Last week we shared a story of a cat as the best gift ever. So far nobody has mentioned a puppy or a dog as best gifts. They don't have to be under a Christmas tree the way my daughter's dog is here. They can be the best gift any time of the year. I've certainly had some of those best gifts. Oscar is my most recent one. But I may get a dog Christmas story yet. Remember, if you haven't already entered my Christmas giveaway, you still have time. I'm not drawing for the winner until New Year's Eve. Just leave a comment here with a way to contact you or send me an e-mail from my website.You can check out about the prizes on the Events Page.
By this time next week, we will have had our family Christmas. Saturday is our big day with the kids. Next week is getting ready time. Gotta bake cookies, wrap those last stray gifts, go to the Candlelight Service at church, buy groceries, clean the house, and who knows what else. If I could teach Oscar to wipe his feet when he comes inside it would be easier to keep the floors clean.
What do you have to do to get ready for Christmas?