"We give gifts to remember the best gift we'll ever receive, Christ. None of the gifts can top that, but we still enjoy being on the look out for something to make our loved ones smile." ~Kathie
When I do a giveaway where I invite you to share stories with me, I'm always so blessed by the comments and stories you share. This Christmas giveaway is no different. (If you haven't entered yet, you can still throw your name in the hat by leaving a comment here with a way to contact you or by e-mailing me from
my website.
Deadline to enter is December 31.)
The above comment is from one of my newsletter readers. Kathie likes finding at least one gift every year that will "knock the socks" off the person who receives it. That's the kind of gifts most of us want to give, but it doesn't always happen as evidenced by the gift stories I shared on Sunday.But Kathie loves finding gifts to please her family.
"I always love to find at least one special gift each Christmas. Something that I just know will knock the socks off the recipient. ….I never really know what that special gift will be until I see it. If I find at least ONE, then I feel like I've succeeded."
Cathie's husband succeeded with a best gift one year. Here's her story.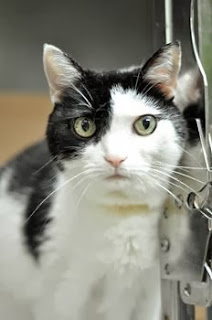 "I think the best gift I have ever received was a kitten (total surprise) from my husband, who thought he did not like cats. He was so secretive and was so excited to give me this gift. That was true romance!"
When I asked Cathie if I could share her story, she said yes and told me more.
"The rest of the story is, while my husband did not fall in love with that cat, (she was a one-person cat for 17 1/2 years), he loved the bond between Cecelia and myself – enough so, that he wanted his own! So, after a couple months, we got a cat for him … Winifred -she got sick after three years and we had to put her down – sad day for Rick and he didn't want to "go through that again" – well, I waited a couple months and for his birthday in November (did you know it is hard to find young kittens in November? – ha) I gifted him a black and white persian. Madison is now 16 1/2 and he loves her dearly."
Love the great names Cathie gives her cats. You could imagine them in a cozy mystery. You did know cats solve mysteries, didn't you? I was at a bookstore today and saw several mystery books starring cats.
Last, here are a couple of ideas for Christmas this year or for another year. Something better than a new sweater or slippers. BJM shared her favorite gift.
"My favorite gift was a Memory Jar that my daughter gave me one year for Christmas. In it she had written, on different pieces of paper, things she remembered growing up. Some made me laugh and some made me cry. In all it was so special to me.
I also made one for my son and daughter one year and also put pictures in theirs. You just get a nice jar with a lid, and you can decorate it or write The Memory Jar on it with a pretty ribbon tied around the top."
Another idea is for someone to prepare the memory jar and then at a big family gathering, let everybody add a memory to it for a grandmother or grandfather.
This last is a gift Sharon gave from the heart.
The favorite Christmas gift I gave was ten years ago. My brother died in July and for Christmas, I made a video and talked about his life growing up.. I told stories of our parents and grandparents and life before they were thought about. The four really appreciated it and my great niece would sometimes ask to see her grandfather's video. It took many hours to write and produce, but it was worth it.


It is very true that the best gift we can give is a gift of love and time.
Hope you find some good gifts to give this year. I doubt I found any perfect gifts but I did find some gifts. Now I've got to get them wrapped. Do you like wrapping presents?