Words


"Words are only postage stamps delivering the object for you to unwrap." ~George Bernard Shaw
Since I let Wednesday slip away without posting last night, I'm writing this early on Thanksgiving morning. So of course, it is about being thankful. I have so many blessings to count, that I could write them down all day and then nobody would get to eat those mashed potatoes or macaroni and cheese I need to cook. The turkey is in the oven and I made the cranberry sauce and chess cake last night. Stay tuned for my very simple chess cake recipe – as long as you're not dieting. 🙂
But last night as I got ready to go to bed I was thinking about what I could have written if I hadn't forgotten it was Wednesday night and the thought came to me that I was thankful for words. I am so very thankful that I have been given, in some small measure at least, a gift for words. I like words. I like to put them together to make a story. I like reading the way other people put them together to make stories. I like hearing people speak those words to tell a story. I like the sound of words when you read a story aloud to a child whether the words are ones in the dictionary or some arrangement of letters that make up nonsensical words for fun.
A Big Dream
I am so thankful that I have been able to live my childhood dream of being a writer. That was such a big dream for a little girl growing up on a tobacco farm who had never even met anyone who was a writer. It was such a big dream that even after I had several books published I had a hard time claiming the title of writer out loud. It was as if I thought it might vanish if I became too sure of it. Last Sunday at church we were being thankful for our beautiful fellowship hall that seemed an impossible dream for our little church when we first thought about building it. But now it's built and paid for and a blessing to our church. There's no dream too big for our Lord.
So that's how it was with that little farm girl who did become a writer with the help of the Lord. Now all these many years of writing later, I can say, without hesitation, I am a writer. I have been blessed by the characters who have come to life in my imagination. And I have been blessed by the readers who have also let my characters come to life in their imaginations. Words are a writer's tool. And I am thankful for those tools.
"Love. Fall in love and stay in love. Write only what you love, and love what you write. The key word is love. You have to get up in the morning and write something you love, something to live for." ~Ray Bradbury
A Simple Recipe Everybody Likes
Now here's that Chess Cake recipe: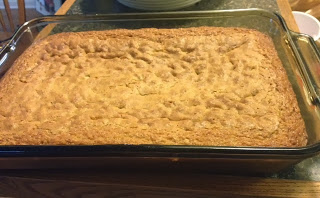 1 C butter or margarine
2 C brown sugar, packed
1 C granulated sugar
4 eggs
2 C self-rising flour
1 C chopped pecans
Cream butter and sugars. Add eggs and flour and then the nuts. Bake in a 13 x 9 inch dish at 350 degrees until lightly brown – approximately 35 minutes. Slice into squares and enjoy.
Now to Announce the Winner


Melanie Backus is the winner of Jan Watson's autographed novels, Skip Rock Shallows and Tattler's Branch. I'll be in touch, Melanie. Thanks to all of you who commented on Jan's post and on the ones since. A special thanks to those of you who have offered encouraging words and shared your own journeys down the hard path of caring for a loved one with dementia. I'm thankful for each of you.
Happy Thanksgiving!!