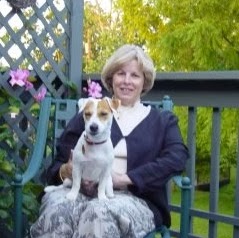 My Friend, Jan
"Watson's success lies
in her ability to create characters that are endearing and timeless. . .
." Romantic Times Magazine.
One of the best things about writing in the
inspirational market has been the friends I've made of other inspirational
writers. One of those friends is Jan Watson who also lives here in Kentucky and
writes historical Kentucky novels. So sit back and let me tell you a little
about my friend, Jan

Jan Watson was a registered nurse and peri-natal loss counselor before she
retired and began a second career as a writer. She got a great start by winning
the 2004 Christian Writers Guild Operation First Novel contest for her first
novel, Troublesome Creek. She's won many awards since then including being voted 2012 Best Kentucky Author by the readers of Kentucky Living Magazine. Her books are set in the Appalachian Mountains
and have a great mix of history, romance and suspense. Jan says that while she has always loved books, she never had the dream to write a
book of her own the way so many writers, including yours truly, did. But then
she remembered a story her grandmother told her once about a terrible flash
flood that swept away a baby whose body was never found. Thoughts of this baby
stayed with Jan for fifty years before she decided to save her, if only in a
fictional story.
Troublesome
Creek
and More
After she began to toy with writing a book
about that baby, the first three sentences of what
became Troublesome
Creek came to her as she waited in a drive-thru line at McDonalds: "Girl! You'd better get to the house. If
your mam catches you in that creek again she'll skin you alive." When the
words wouldn't stop coming after that and she was scribbling them down on any
and every scrap of paper she could find, she knew she was going to write that
story. Turns out, that story became more stories as she kept following her
characters down their life paths. Her first series about that baby and her
family include Troublesome Creek, Willow
Springs, and Torrent Falls. I'm
sure you're noting the water connection in all the titles.
Jan's Loyal Writing Companion

Jan
and I are both dog lovers. That gives us even more to talk about than writing.
Her husband brought Maggie, a Jack Russell, home to her when the puppy was a
few weeks old. Several months later, they realized Maggie was deaf, but that didn't
seem to slow her down much. Jan says Maggie understands doggy sign language, but
if she doesn't want to mind, she just turns her head and pretends not to see
Jan.

Jan
sometimes writes with Maggie sleeping on a pillow on her lap. But she says the
best thing about Maggie is that she reminds her there's fun to be had
every day and that it's best not to take life too seriously.
Jan's Newest Series
In Skip
Rock Shallows, Jan begins the story of Lilly Corbett, Copper's daughter.
Copper is the baby rescued from the flood in Troublesome Creek. But now we're getting to know Lilly after she
graduates from medical school and takes an internship in the coal camp of Skip
Rock, Kentucky. Lilly is drawn to the stubborn, superstitious people she
encounters in Skip Rock–a town where people live hard and die harder and where
women know their place. You can follow Lilly down some romantic pathways in
this Appalachian town as she begins to earn the residents' trust.
Tattler's Branch
follows up Skip Rock Shallows. Lilly,
married now, loves her life in Skip Rock and the people who are like family to
her. With her husband away for a few months at a mining job, Lilly has her
hands full with her patients and a younger sister visiting for the summer. Then
an abandoned baby plunges Lilly into a struggle between what is right and what
is safe. She must discover the strength of her country neighbors, her God, and
herself.
Win Jan's
Books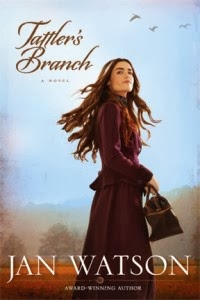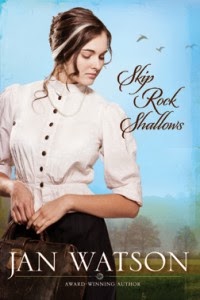 I have
autographed copies of
Skip Rock Shallows
and
Tattler's Branch
to give away to
one lucky person. To throw your name in the hat, just leave a comment here with a way to contact you please.
The giveaway is open to residents of the United States and Canada, but you must
be eighteen or over to enter. Deadline to enter is midnight EST, November 27.
And if
you don't want to wait that long to read one of Jan's books and you have an e-reader,
Tattler's Branch
, is available right
now through Saturday, 11/16, for the great download price of $2.99. Check it
out at your favorite e-book distributor. Here's the
Amazon link
.
Kentucky
Book Fair Saturday, November 16
If you're
in the area, you can come meet both Jan and me at the
Kentucky Book Fair
at the
Frankfort Convention Center this Saturday, November 16, from 9 a.m. to 4:30
p.m. We'll be signing our books there along with about 150 other writers
including inspirational fiction writers, Virginia Smith, Jennifer Johnson, Allie
Pleiter, Shelley Shepard Gray, and others. Of course, I hope you'll come by my
table way in the back to say hello.The fair is a great place to pick up some unique gifts for the booklovers on your Christmas list.
As a
preview to the fair, Virginia Smith and I will be talking about our books and
writing at the Frankfort Senior Citizen Center, 202 Medical Heights, Frankfort, KY, at 10 a.m. on Friday,
November 15. The event is open to the public, senior citizens and younger citizens too. So come on out and get
a jump start on the fair.