The Mystery Revealed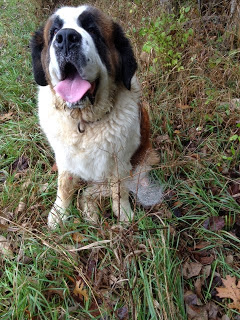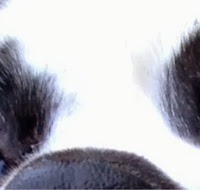 The guesses were fun. All of you were ready to be out on the farm. And I finally fooled some of you. That made me smile. But a few of you were right. It wasn't a cow. Or a pig. My daughter-in-law knew who it was on first glance, but she privately messaged me her guess so as not to mess up the fun. Above is the "rest of the picture." Meet my neighbor dog, Roxie. She's a sweet dog but she does have a drooling problem and when she shakes her head you have to dodge those "slingers."
A Cow Picture for the Cow Guesses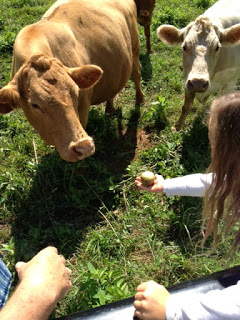 For those of you who guessed cow, here are the color cows we have. But I could almost see what you were seeing in the mystery photo. Almost. I was really expecting somebody to say panda bear. Maybe I need to go look at a panda bear picture myself. And the pig guesses, well, there are black and white pigs, but I don't have any pictures of those.
On to the Winners
I did draw for the two winners of Orchard of Hope. Susan from CA and Mary Preston. So far I haven't exactly been able to contact them. I'm having trouble with that lately. But I have sent Susan a Facebook message and I'm hoping Mary will send me a message on Facebook or leave a way to contact her in a comment here. If I don't hear from them, I'll draw more winners next week.
Meanwhile – You Might Win Christmas at Harmony Hill
You can hop over to
WFBC Media Center Blog
to read my Christmas themed interview there and leave a comment on that that blog for a chance to win
Christmas at Harmony Hill.
I shared a couple of recipes too. One for the Christmas punch my aunt made when I was a kid and I've carried on the tradition and another for Hummingbird Cake. Don't ask me why they call it hummingbird cake. I have no idea!
A Captive Audience
Tomorrow morning I'm going to one of my granddaughter's school and talk to some school kids. That's why they're a captive audience. Their teacher will insist they listen to me or at least I hope they will. Two first grades, two second grades and two fifth grades – in three different sessions. I love talking to kids but I'm a little worried I won't be able to keep their attention for the time the librarian has scheduled for me. And three sessions is a lot of talking. I'm hoping I won't let my second grader granddaughter down. Pressure's on! Prayers appreciated!