"Imagination has rules, but we can only guess what they are." ~Mason Cooley
I love games that take imagination. Guessing games can be fun too. So thank all of you who have played along with my mystery photos to enter my giveaway for Orchard of Hope. I'll be drawing for the two winners on Saturday, November 2, so you can get in an extra entry by commenting on this post or one of the other mystery photo posts before Saturday. Each guess or comment on a new post gets you another entry. Do you know what this one is? Remember, it's more fun if you make your guess before you read everybody else's.
I'm not quite as mysterious as I'd hoped to be with these photos.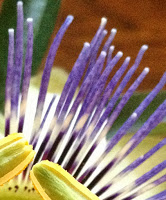 I thought the one last Wednesday would be a real puzzler and what did all of you say? Flower. And all of you were right! However, only a few of you knew what KIND of flower. It is a passion flower. They are strange little blooms. One of Mom's sitters brought it show Mom one night this summer. I'm totally amazed by the bloom from its strange little skinny petals to its merry-go-round center.The amazing gifts of nature.
I really didn't plan to do any more mystery pictures, but since I'm not drawing for the winners of Orchard of Hope until Saturday, I said why not. You may be bored with the game, but I'm determined to stump some of you!! I probably won't. You guys are just too smart and good at figuring things out.
I did finally contact the winners of the Shaker books which was the bonus prize I offered during the Christian Fiction Scavenger Hunt. I hope if you took part in that you had fun and maybe won a prize on one of the posts. My winners are Pam of CA and Katie of FL who both chose The Believer. The third winner was Linda of CA who picked The Gifted. I do appreciate all of you telling me what you liked about the scavenger hunt and leaving comments on Lyn's guest post here on the 18th. I read every comment, but was unable to answer every one after the 400 plus message started giving my computer a headache. 🙂 Computers with headaches are not nice to be around.
"I guess I'm just quite observant and I pay attention to a lot of things. Human behavior really fascinates me." ~Ellie Goulding
So let's see how observant you are. And I promise. This is the last mystery photo for a while.