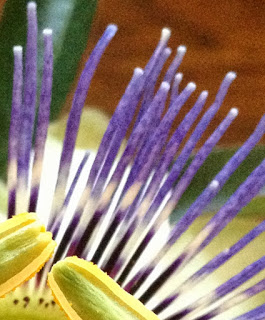 "Who in the world am I? Ah, that's the great puzzle." (Lewis Carroll)
So to twist the quote a bit, what in the world is it? Are you tired of mystery photos yet? I hope not. I thought I'd do one more to let you keep guessing to perhaps win that copy of the newly packaged Orchard of Hope. I think Jocie and Wes would have had fun guessing on these mystery pictures too. Maybe I'll let Jocie come up with some sort of puzzle for her Hollyhill Book of the Strange blog. Jocie likes puzzles. Did you see her post about Beatlemania. Do you remember that? I do. I never swooned or screamed, but I sure did like singing "I Want to Hold Your Hand." Not exactly the greatest song ever written, but it grabbed our attention, didn't it?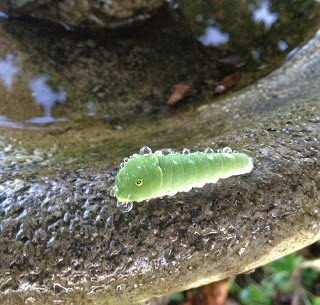 But here is the rest of the picture of last Wednesday's mystery photo. Several of you were right on the money with your caterpillar guesses. You even told me exactly what kind of caterpillar and that they were tomato horn worms that becomes a sphinx moth. The bubbles that I thought were so neat were actually deadly to the poor caterpillar according to the info Kathleen found for us. Here's the last bit to explain the bubbles. (Not sure about her source.) "Here's this handy tidbit, if needed: Find out what kind of bug you have: Is it a good bug or a bad bug? Keep a look out for little caterpillar/worm like pests and spray or squish them. The only exception that I can bring to mind would be a tomato hornworm (green caterpillar) — if it has a bunch of bubbles on its back, it is infected by a beneficial wasp that will eliminate a few generations of the hornworms. Leave them. They are on the way out anyway."


You readers teach me so much. But now let's see what you teach me about the mystery picture up top. Oh yeah, and I loved your guesses on the last one – garden hose, cabbage leaves, lime halves, cactus leaves. You were using your imaginations. Thanks for giving it a try.
If you want to be in the drawing for a copy of Orchard of Hope, just make a guess on the mystery photo or any comment will do. If you've already guessed on one of the other photos, you'll get an extra entry for guessing on this one too. I'll pick three winners on November 1.