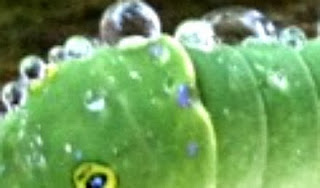 "Vision – It reaches beyond the thing that is, into the conception of what can be. Imagination gives you the picture. Vision gives you the impulse to make the picture your own." ~ Robert Collier
I love taking pictures. I got my first camera when I was twelve. It was a Christmas gift and I took as many pictures as I could afford. Back then you had to buy film and flashbulbs and then pay to have the pictures developed. I didn't have the means to keep the camera loaded all the time, but I did enjoy using up the film when I had that extra cash. Now kids can grab a camera, or more likely a phone, and take photo after photo.
Several years ago when I still had a regular film camera and was taking pictures of my Sunday school kids, they kept wanting to "see" the picture right away the way you can with the digital cameras. I did finally come into the modern age and I do enjoy the freedom of shooting all sorts of pictures without having to think about the developing costs.
"Photograph: a picture painted by the sun without instruction in art." ~Ambrose Pierce
I like sharing things I spot on my walks with you on my Facebook author page. I enjoy capturing fun times with my grandkids. And I like playing around with the photos to make mystery photos to have fun here on One Writer's Journal.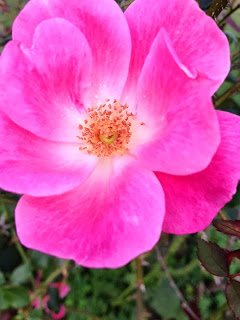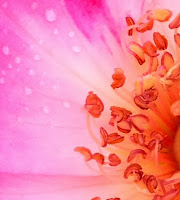 This is the mystery photo from my last blog post. You made some great and poetic guesses. Loved them all. And most of you figured out what the photo was or at least were very close. Here's the "rest of the picture." The drops are dew drops. Thanks for your guesses. You're entered in the drawing for the newly packaged Orchard of Hope. Thanks also to those of you who said you liked the cover.
Now you can guess on the new photo at the top. If you made a guess on the Knockout rose picture and decide to give the new mystery picture a guess (or say you have no idea), you will get another entry into the giveaway. Remember, it's more fun to guess first and read the comments with the other guesses after that. But you can leave any comment here between now and November 1 to enter the giveaway. I'll pick two winners on November 3.
"Everyday we should hear at least one little song, read one good poem, see one exquisite picture, and if possible, speak a few sensible words." ~Johann Wolfgang von Goethe

Remember to check back here on Friday, October 18 for the Christian Fiction Scavenger Hunt. My guest is going to be Lyn Cote. It is going to be fun chasing around through the blogs, reading about all the books and authors, and collecting clues. Great prizes too. Who knows? You might get a chance to read a good poem or see a great picture or hear a few sensible words. 🙂
And if you're in the area, you're invited to my Christmas at Harmony Hill Hometown Book Launch on Sunday, October 20th at 2:30 p.m. at the Anderson County Public Library. We'll talk books and laugh about me actually looking at Christmas stuff here way before Halloween. That has NEVER happened before! But I bought a couple of Christmas door prizes.