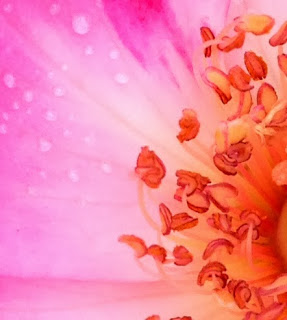 Guess to Win a Book
Let's have a little fun with another mystery picture. Leave a guess, but don't read the other comments before you guess. It's more fun that way. But leave any comment on this post or one of my other posts before the end of October to be in a drawing for a copy of Orchard of Hope. (Exception – Comments on the October 18 Scavenger Hunt post will be for the great Scavenger hunt prizes only.) I know some of you may already have the book from its first printing, but autographed books make wonderful Christmas presents or stocking stuffers. Or maybe you would like to donate a copy to your library. So make a guess or join the conversation this month and see if you can win a book. I'll pick two winners on November 1.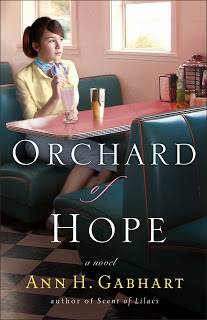 Orchard of Hope's new cover.
How do you
like it? Jocie is at the Hollyhill Grill enjoying a strawberry
shake. That has to be good! For my Hollyhill stories, I looked back at the way I remember my little town being in the 1960's. That was a time before Wal-Marts and before the
main highway bypassed Main Street. Back then, if you wanted a new toaster, some nails,a prescription filled, a new dress or shoes, a loaf of bread or that strawberry shake, you went
downtown on Main Street.
And a lot of people did, especially on a Saturday afternoon. All the
farmers put down their tools, stopped plowing or planting or harvesting and brought the family to town. It was a time to stop on the sidewalk and talk to your neighbors because you knew everybody you met. The teenagers got to do a little flirting while sipping a soda at the drugstore soda counter. But it wasn't all good. Our schools weren't integrated until the middle of the Sixties. The fight for Civil Rights was ongoing.
I took some of all that and mixed in my characters and their imagined lives and Hollyhill had a new story to tell. Many readers have told me that one of the final scenes in that story – a revival scene in the small country church – touched their hearts. I won't tell you more because I wouldn't want to spoil the story for you if you haven't read it yet.
Great Chances to Win
So lots going on this month with books and prizes to give away. There's a
Goodreads
giveaway happening for
Christmas at Harmony Hill
. You have until November 1 on that one too. Then the fun Scavenger Hunt starts on Friday, October 18. I'll be posting one of the clues and a new posting from Lyn Cote. My post will be on a different site. There are 25 bloggers and writers taking part in the fun. Besides the main prizes of an iPad and 2 winners of all 25 newly released novels, many of the bloggers are offering prizes on their individual blogs. I'm offering a copy of one of my Shaker novels, but you have to wait until October 18 to leave a comment for that.
Meanwhile you can guess on the mystery picture and perhaps win a copy of Orchard of Hope. Remember, to make it more fun, don't read the other comments before you guess.