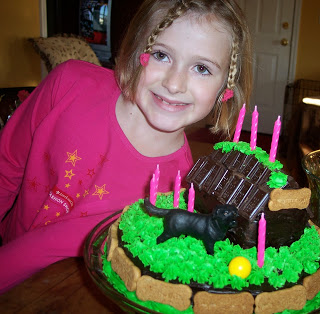 "Let's face it, a nice, creamy chocolate cake does a lot for a lot of people; it does for me." ~Audrey Hepburn
I've got some serious chocolate lovers among my grandkids. I think they may have taken after their grandmother! My sister has a granddaughter who won't eat chocolate and everytime I hear that I am amazed afresh and think, surely, she just hasn't tried it yet. lol
This chocolate cake looks like it could be my dog, Oscar's cake, doesn't it? Of course, they say chocolate is poisonous to dogs. Do you think it's possible that dogs love us so much they just wanted to come up with a reason to let us have all the chocolate? But the cake was my granddaughter's request and her mother was game to give it a try and did a great job. No, those aren't real dog biscuits. They were some kind of dog biscuit shaped cookies. A great cake anyway.
It was fun reading all the birthday stories you all sent me or left in comments here. (If you haven't entered the giveaway contest yet, you have five more days to throw your name in the hat. Drawing is next Monday night at midnight EST. Details about the contest are on my website's
News and Events Page
.) Certain trends showed up in your stories. You like cake – especially chocolate cake. Surprise parties made for memorable birthdays. You loved feeling special on your birthday. And family makes the memories sweeter.
Mary left this in a comment on one of the birthday story posts, but in case you didn't read the comments, here's her story.
"Birthdays are always special in our family – favorite cake & meal
& treat. I always had a chocolate cake with chocolate frosting,
roast chicken & home-made marshmallows – not quite in that order.
The birthday person also gets out of chores. After dinner you just walk
away from the table. Growing up that was almost the best part of the
whole day."
Those home-made marshmallows sound interesting, Mary. I did something like that with my kids too. I still cook their favorite meals and desserts if they can make it home for their birthdays. And I like the idea of the birthday person getting out of chores. Seems that's harder to work out for us older folks. If you could, what chore would you most want to get out of?
Maxie
shared this last story about a treasured surprise party.
I have been blessed with 12 grandkids and now 19
great-grands. How great! Very well blessed. … My favorite
Birthday would be my 75th. It was also my first ever Surprise Party. My
granddaughter and daughter had the house (big) decorated prettier than
I've ever seen. This daughter also made my BD cake. So good! Real fudgey.
She got everyone to bring one of my favorite desserts and foods they had
ever known me to love. Was absolutely Fantastic."

Birthdays are a great time to feel that extra love and to give that extra love too. Have you ever thrown a surprise party for anyone? Were you ever surprised by a party yourself?
Thanks for reading.