"All the world is birthday cake, so take a piece, but not too much." ~George Harrison
Birthdays mean cake. And sometimes surprises. At least that's what I'm hearing in the stories you've been sending in as you enter your names in my Celebration Giveaway for Christmas at Harmony Hill. 12 more days to enter your name by sending me a message from my website or leaving a comment on one of my blog posts before midnight EST on September 30. You might win a Shaker Christmas ornament or a quilted Christmas tree hanging. And of course books. Remember I have that special drawing for book prizes if you say you've never won. Details are on my website's News and Events Page. Who knows? You might end up as happy as this little birthday girl who just blew out her candles. I think she's expecting her wish to come true.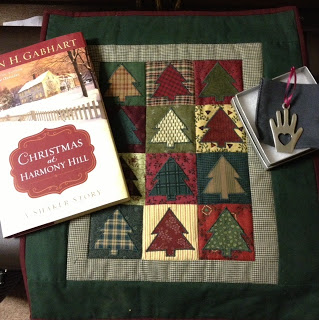 And even if you don't win the prize, you can enjoy some of the birthday stories with me. We're thinking cake tonight. How many of you have let your kids dive into a cake on their first birthday? Did it turn out the way you expected and give you some laughs?
Marilyn says her first birthday cake supplied her family a million laughs over the years. "When I
was one-year-old my mother baked me a beautiful birthday cake. They
sat me down on the floor with the cake in front of me to take a picture.
I promptly raised my right leg and placed it squarely in the center of the
cake. They got their picture (and still have it) but it wasn't the
picture they had planned. But it has created a million laughs since
then."
Too bad this was before America's Funniest Home Videos. That's the one show Mom will watch – mostly because of the cute kids – so I'm finding out what America thinks is funny. Marilyn's leg in the cake might make the show!
Amanda tells us about a special grandmother who is still making those birthday cakes. "I remember birthdays with fondness growing up. My
grandmother would always make each of us our favorite cake on our birthday in addition to cooking our favorite meal. I always wanted a homemade black
walnut apple poundcake with brown sugar frosting. My favorite meal- Mamaw's
fried chicken, of course, with all the fixins. She is 85 years young this year.
My husband and I recently moved to within a mile of her so she could continue
to remain at home with someone there to help her if and when she needs it. She
still makes our favorite cakes for each birthday, although we have started
taking our own "supper" with us so she doesn't tire herself out
cooking."
Amanda, tell your Mamaw we're all coming to your birthday next year!! That cake sounds delicious.
One more cake story from Annette. "I was new in a new school in a new
state. They talked differently, dressed differently and
seemed to be so distant. My birthday came, and the girls in my class brought a cake in the shape of a
butterfly for my birthday. It is the first birthday cake I
ever remember."
And wasn't that a great first birthday cake to get? It's so good to have good birthday memories and a delicious cake makes the memories better.
What's your favorite cake? Ever blow out birthday candles and believe your wish would come true?