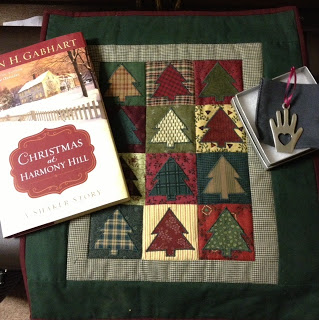 I sent out a newsletter Sunday. If you're on my newsletter list you already know about my new celebration giveaway, but if you're not, you can find out about it here.
I'm celebrating my birthday and the September release of Christmas at Harmony Hill by
giving away some prizes. The book is in stores and available online. I do hope you will enjoy the story when you get a chance to read it. Back to the giveaway. For the prizes, I picked Shaker Christmas decorations – what else? 1st
prize is the "Hands to Work; Heart to God" ornament and one of my books
(winner's choice). 2nd prize is the mini-quilt hanging with embroidered
Christmas trees (13.5″ by 16″) & a copy of one of my books.
(Again winner's choice.)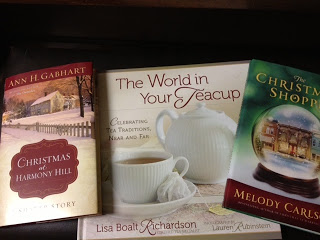 Then my "never win" prize for those of you
who say you never win is a lovely book about tea, a Melody Carlson Christmas book and a copy
of one of my books. To enter you can e-mail me from
my website
or leave a comment here with a way to contact you if you happen to be one of the lucky winners. Remember to tell me if you're one of those "never win" people. I know the feeling. Deadline for entering is midnight EST September 30, 2013.
Contest open to residents of the United States and Canada and those 18
or over.
For fun, you can share a favorite birthday memory and in the weeks ahead, I'll share a few of them forward if you give permission. I've got some good birthday memories to share too. While I may not enjoy counting up my birthdays, I still love having them. The last few years I've had to celebrate my birthday at the National Quartet Convention. At least my husband has plenty of booths to look for a last minute present for me. One birthday, a few years ago, he bought me presents at a truck stop on the way home from one of the Patriots' concerts. Actually, I really liked the t-shirt with Labrador dogs on it. And the truck stop sack made good wrapping paper too. LOL.
I've already gotten a lot of neat birthday memories from those of you who get my newsletter. Some of the stories have made me smile. Some have made tears pop up in my eyes. Here's one of the smiling memories from Sandi.
My best birthday memory is when I was soon
to be 17. My birthday is in July and I was working as a waitress the
summer before my senior year. I'd had a horrendous day at work and wanted
to go home and go to bed–or hide under the bed or just die (teenagers are sooo
dramatic). My two best friends showed up just as I got home and they
insisted that I go "out" with them. I refused to clean up or
put on new make-up–I had cried on the walk home and I looked rather dreadful,
but after much coaxing (and threatening from my mom who had joined the
discussion for some reason), I decided to join them. My friend Ruth said
she had to stop at her boyfriend's house to pick up something and I assured her
I'd be the one in the car…"Jim" came to the door and insisted I
come inside. I was pretty worn down by then so I went in…surprise–all
of my best friends and some I didn't even like were inside and they all
screamed "happy birthday" in unison. Fortunately, my mom had
packed a bag with make-up and fresh clothes in it and had secretly given
it to one of the girls.
And now we hear from Donna about how we can't know what tomorrow holds, but we can cherish the good times we have with family.
My best birthday had to be two years ago. My family
(daughter, son-in-law and 2 grandkids) were away on a camping trip on my birthday. My sister … invited me
and my boyfriend over to celebrate my brother-in-law's birthday. Unknown
to me, it was not only my brother-in-law's party but one for me too. Out came a separate cake for me with candles, and they all sang Happy Birthday,
and even had presents. My sister had invited her kids and grandkids to
this party and it was a wonderful, birthday surprise for me. Little did
we know that a year later my sister would be fighting for her life battling
cancer. She's had surgery, radiation and is doing better. So, thank
you Big Sister, for everything. I love you.
Donna's sister's name is Diane, so if you have a minute, whisper a prayer her way. I do so appreciate all the prayers you've whispered my way and my mother's way as her dementia steadily worsens. Prayers are powerful.
Thanks for reading and I hope you'll join in with my giveaway fun and come back for more stories in the weeks ahead. And if you don't get my newsletter and would like to, just let me know.