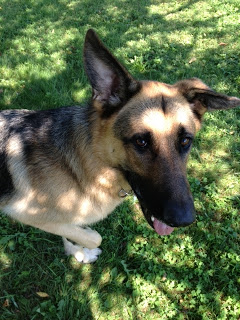 "Good things come to those who believe, better things come to those who wait, and the best things come to those who don't give up."
This is Riggs, my son-in-law and daughter's dog. They picked him as a pup because he seemed to be the quietest and listened the best. He must have been on his best behavior that day because he's rarely been quiet or still since. Here he's watching me waiting for me to throw a stick for him to fetch. See his paw up – ready, set, go.
But you know, I think we can learn a few things from Riggs. First, he's always ready for a good time. Second, he can have fun with whatever stick he might find, whether it's no more than a twig or a branch he has to break down to size. Third, he keeps his focus. He'll stand like that and watch the stick he brought you or the ball he wants you to throw for long minutes until you know what? You pick it up and throw it. Then he's gone like a flash to bring it back to you and start the whole cycle over again. He never seems to get bored at doing what he does best – fetching.
It's time for me to be ready, set, go on a new story. I've found the stick (got the idea). Now all I need is the belief that the stick (the story) is worth pursuing and the focus to keep my eye on that story. I need to keep trying to do what I do best and that is tell a story.
Meanwhile, thank you all so much for leaving comments this week and entering my drawing for a copy of Christmas at Harmony Hill. I used Random.org to choose my winner. And the winner is — Central East 2. (I'll be sending you an e-mail, Central East 2, to get your mailing address and then will send your book.) And because I had so many wonderful entries and because nearly all of you said you liked Christmas novels, I got in the Christmas spirit in August and picked a second winner. Linda McFarland, you're my extra winner this time. (Sending you an e-mail too, Linda.)
I also have copies of Small Town Girl to send out to the winners over on Seekerville. Had a great time talking to everybody over there about books and writing.
Now you can read about my experience of having my first child on Lyn Cote's Blog. And guess what? You can leave a comment there to have another chance to win Christmas at Harmony Hill. It's such fun to give away books and I'll enjoy hearing what you have to say about my post on Lyn's site.
Thanks for reading. Oh, and if you want a smile about Riggs, go to my Facebook page and see his video. 🙂