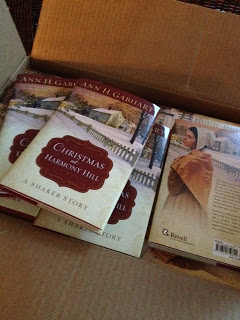 When the delivery guys bring me a carton and I open it to see a new book spill out, I feel like a winner. So I'm giving away a copy of the just arrived Christmas at Harmony Hill to share that winning feeling. Keep reading to see how to enter your name in a drawing.
As a fiction writer, I spend day after day with my fingers on a keyboard and my mind in a world that doesn't even exist, putting words into the mouths of imaginary people. Sometimes I wonder if I'll ever get the story told.
But then that great day comes when the new book lands on my doorstep, all dressed up in its beautiful "meet the world" clothes.
Yesterday I got to experience that fun day with my Shaker Christmas book, Christmas at Harmony Hill. The official release date is September 15, a birthday present for me, but it could be the book is going to sneak into stores a few days or weeks early. I personally am not going to admit to being a year older until the actual day, so the birthday is not coming early. Just the book. LOL.
I've never written a Christmas novella before. I've had Christmas scenes in my books. One in Orchard of Hope, the second book in the Heart of Hollyhill series. That reissue will be out in another month. I love having books come out, but this year it's kept me hopping. I also wrote a Christmas scene in the Rosey Corner book I just finished. All kinds of interesting things can happen around a Christmas tree or in the case of the Shakers, in a Shaker village.
The Shakers didn't do elaborate Christmas celebrating back in the 1800's. They generally had a worship service where they received imaginary gifts – thing like robes of love or baskets of blessings. But before Christmas they had a day sometimes called Sacrifice Day and other times called a Day of Atonement. On this day they were to seek out and ask forgiveness from any person they had wronged in the past year. They were also obligated to forgive and forget the wrongs done to them. I used that in my story as both of my characters, Sister Sophrena and Heather, had people in their lives they needed to forgive.
I do hope readers will enjoy going back to Civil War times for my Christmas story. One of you can get an early copy to read since to celebrate these books showing up on my doorstep, I'm giving a copy to one of you who comments on this blog. I'll draw for a winner on Sunday. That will make two Sundays in a row I'm giving something away. Last week my mystery picture winner was Ann M. who said she wanted either Words Spoken True or Small Town Girl. I'm having trouble deciding which one to send her. Decisions. Decisions. Anyway, this week maybe you'll be the lucky winner. I won't have to decide which one to send you. You'll get Christmas at Harmony Hill. 🙂
Just leave a comment. You can tell me if you've ever read a Christmas book. I'll be guessing that you haven't read a Christmas Shaker book – yet!
I'll also be giving away a book to someone who comes over to my guest post on Seekerville on Friday, August 23, and leaves a comment there. I'll be giving away Small Town Girl. That's a lively site with lots of comments, so I'm looking forward to talking to the readers there.
I always look forward to talking to you here. Thanks for reading.