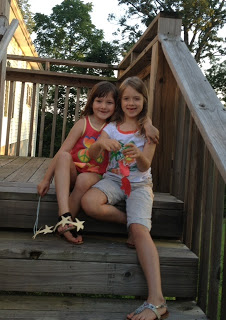 "A hundred years from now it will not matter
what my bank account was, the sort of house I lived in, or the kind of
car I drove… but the world may be different because I was important in
the life of a child." (Forest E. Witcraft)
Did you go to Vacation Bible School when you were a kid? Have you ever volunteered your time to teach kids Bible stories or help them tie dye shirts or make pencil holders out of soup cans? Could be you made a new friend like these two have done.
Back in the day, so the older members of our little church used to tell me, they had Bible School for two weeks for three hours in the afternoon Monday through Friday. They went around with a big truck and gathered up every kid in the neighborhood and when the classrooms inside the church were unbearably hot with so many kids crowded in them, they had Bible School under the shade tree in the yard. They fed the kids Koolaid and cookies and taught them to store the Word of God in their hearts.
I don't remember the two week Bible Schools, but I do remember the three hour during the day sessions. And I do remember the fresh faces of the kids eager to hear the Bible stories and make something neat to take home to show their moms and dads. I remember singing "This Little Light of Mine" and "I've Got the Joy, Joy, Joy Down in My Heart." I remember giving that whole week to Bible School from preparing lessons and getting craft ideas ready. I remember all the other ladies in the church and some of the men were ready to do the same. It didn't matter that the beans in the garden were ready to pick or that they needed to make a few gallons of tomato juice. At VBS time, they were there to give their time in order to share the Gospel with a child.
Sweet children's face march through my memory as I think back on teaching Bible School for over forty years. I'm not all that good with crafts. Sand jars are usually my and the kids' favorite. Did you know you can make great "sand" for those sand sculptures with plain old salt and colored chalk. Just pour a little salt out on wax paper and let the kids rub the chalk on it. The more they scrub the salt with the chalk, the darker the color will be.
Some of the other things we made were wind chimes out of bamboo sticks, yarn octopi, a gumball holder, picture frames of all sorts, a necklace of the Ten Commandments rolled up as tiny scrolls and threaded on a string, shirts painted or dyed in interesting and often very unique ways, and concrete garden stones. That's just to name a few. I guess the most unusual thing I ever did with a class was let them paint cow bones. I gathered the bones out in my field from long dead cows and the boys I had in my class that year got a kick out of making them into some sort of very strange creatures. You're probably going "ewww!" But the bone art was actually pretty neat.
But what I always liked best about Bible School was telling the stories. So many great stories in the Bible! Elijah calling down the fire from heaven. Daniel in the lion's den. Shadrach, Meshach and Abednego and the fiery furnace. Jesus calming the storm and walking on the water. The little boy and his five loaves and two fishes. I could go on and on. I love telling the stories in the Bible. I guess that's why I enjoy writing Christian fiction so much. I get to include some of those stories in with my stories.
So how about you? Did you ever go to VBS and make some new friends? I'm thinking you probably never painted cow bones, but you probably painted something and had fun doing it. Oh yeah, and our kids used to love playing kickball.
Thanks for reading.