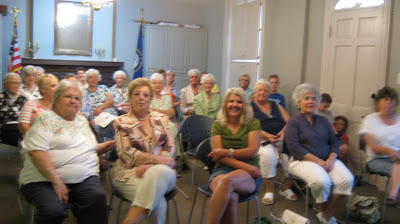 Do you like to talk about books? Well, then you should check with your local library or bookstore and see when an author is coming to town, because if those writers are like me, they'll be talking books. That's what I did today. When Scent of Lilacs first came out in 2005, I decided that since I had used my hometown the way it was during the Sixties as the setting, that I should celebrate that book getting published with a party for my hometown readers. To be honest, I was so happy that book was published after I'd had several rejection filled years, that I was ready to celebrate anywhere, any time. Scent of Lilacs was fun to celebrate with my hometown friends because so many of the setting details I included in the book, they knew all about since they were right here in Lawrenceburg in the Sixties the same as I was.
That first book party was such fun that I've been having one whenever a new book comes out ever since. I even had a repeat party for Scent of Lilacs. We got to talk hometowns again. Today, of course, I was celebrating Small Town Girl. It also borrows a lot of its background and setting from Anderson County. My mother grew up in Alton here in Anderson County, and I used her memories of coming of age during the Depression years as the jumping off place for my story, Angel Sister. In Small Town Girl, I head back to Rosey Corner – my name for Alton – and tell a new story as the ominous WW II clouds gather on America's horizon.
I never know how many people are going to show up for one of my book parties. I always worry that no one will and then I won't have anyone to give away those door prizes to. The prizes are never big, but they're fun. Today I gave away a journal with inspirational sayings on the cover, a really nice pen along with notecards, a lovely garden decorative stake that said "Hope," a decorative wall plaque about imagination, and of course, my book, Small Town Girl. As I told the ladies in attendance, I give away prizes that I like.
Some of these ladies have come to several of my book talks and I worry that they will tire of my talks. But so far they are continually supportive. You know what? That's how Hometown friends are in a small town. I'm making a guest appearance on the Bookclub Network this week and to enter for the chance to win a copy of Small Town Girl, you have to answer one of three questions. (You can go visit too and throw your name in the Bookclub hat for the chance to win one of the five books.) One of the questions I asked was what's good and what's not so good about living in a small town. Well, I found out the good part today. Friends who show up to listen to me talk about books. I already knew that, but it's fun to find out good things over and over.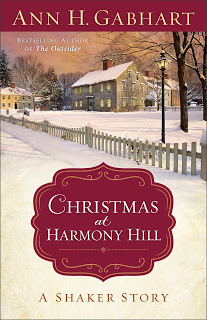 And they all say I need to have another party in September or October after Christmas at Harmony Hill comes out. Here's the great cover Revell designed for it. I've probably already shared that with you, but to be honest I'm so tired tonight, I have no idea if I did or didn't. I'm at Mom's and she just woke up ready for morning. I convinced her it's the middle of the night and to lie back down. Not sure how long that will last, but I can hope for a few hours sleep. If not, I'm going to be sleepwalking tomorrow after only a few hours sleep last night. The grandkids were visiting and I never get them started to bed early enough. No, of course I don't spoil them. LOL. Then I had a few chores to get done and … well, you know how it goes.
Thanks for reading. And I always love to hear your comments. Tell me about a time you enjoyed a book talk.