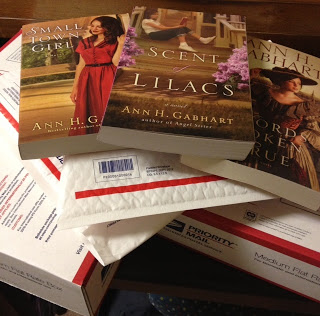 Do you like entering contests? Have you ever won anything? I'm imagining a lot of you shaking your heads. That's why I have that "never win" drawing in my Celebration Contests. Somebody who says they never win has to be a winner. This time it was Brandy from TX. I'm hoping she doesn't have neighbors who don't like wind chimes. Texas probably has plenty of wind to make those chimes sing. She picked my book Scent of Lilacs. The first place winner was Dorothy from FL. She got her roses today and says she's enjoying them so much that she is carrying them from room to room so she can see them wherever she has to be in the house, doing chores or relaxing and reading. Soon she'll get to relax with my book, Small Town Girl. Pam from KS picked Words Spoken True and instead of one of the grab bag books, she gets Small Town Girl. The grab bag books are Laura Frantz's The Colonel's Lady and The Trouble with Cowboys by Denise Hunter. Then I sent Theresa from IA Scent of Lilacs, just because. It's my party and I'll give away an extra book if I want to. 🙂 (Do you remember that song from back when? It's my party and I'll cry if I want to. Well, it's my party and I'll smile if I want to and I want to.)

How about another couple of flower stories? I still have a few I think you will enjoy. Lisa actually left this as a comment here, but I loved the story and wanted to be sure you all got to read it.
"My favorite flower story was told to me by my grandfather. Every time he visited his dad's grave he would take one single rose. He once told me his reason for this. He said when he was a little boy and he had worked out in the fields all day with his dad that at the end of the day his dad gave him a rose picked from the rosebush in the yard. My great grandpa told my pa, 'This is for a hard day's work, son. I'm proud of you.' My grandpa never forgot that and it meant so much to him, he
just wanted to always return the favor."
But you know sometimes we miss the boat on sending flowers. We might only send them when something bad has happened or we're in trouble. At least that's been Anna's experience. She's got some good thoughts here. Maybe we need to think about those ordinary days when we can brighten a life with flowers.
"Unfortunately,
now when I receive flowers (I can think of four times in the last nine years of
marriage), they have been 'I'm sorry' tulips, 'I blamed you
for something I did' roses, or 'oops, I forgot to pick up our daughter
from school' mixed spring flower blends. Receiving flowers just for the
sake of receiving flowers sounds so wonderful. No drama attached or hurt
feelings or kids with angry faces. Simply a day-brightening collection of
some of God's beauty."
So guys and gals, take note. Sometimes a person needs a flower just because even when it's not a birthday or an apology. And sometimes a bouquet can be a lovely way to say thank you. Mildred tells a story about when she was a teacher and a student wanted to say thank you in a special way.
"As a teacher, one
often receives a 'thank you' gift or note at the end of the school
year. One that I especially remember was a bouquet of hand-picked flowers,
including some dandelions, with a note attached that said, 'I did a
good deed in your honor, I picked up all the trash on our street.' Many
other gifts have been forgotten but this one stays with me and I have been
retired several years.
( We had talked about
not cluttering up the environment with our trash.)"
What a great memory, Mildred. Thanks for sharing it with us. And thank all of you again for your wonderful stories. I hope you've enjoyed the ones I was able to share forward as much as I did. A new contest will be coming your way in September.
Thanks for reading!