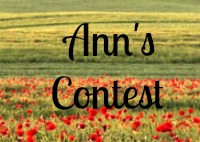 Aack! It's not Sunday. I'm late! A person should not put the end of her giveaway contest on the same day she has a deadline for her current work in progress and on a day when she has to sit with her mother!! I made those mistakes and then the kids came out and picked blackberries. Now, you have to help the grandkids pick blackberries. Life's too short to pass up those kind of fun times.
At any rate, the hours yesterday slid away from me. I missed my deadline for the book submission by a couple of hours, but I figured my editor wouldn't notice until the sun came up this morning. I burned a bunch of midnight oil and probably slept through trying to edit the last three chapters, but I read through them – I think. Thank goodness, Mom slept well last night, but then this morning we had all the Monday chores. Baths and hair fixing and laundry. She's feeling rotten now and is lying down.
So now that I've made a few thousand excuses (not quite, but I probably could keep going if you want to hear them!), I picked the numbers by Random.org. Each of the e-mails and comment entries that came in to my Small Town Girl Celebration contest are numbered and put in a special folder. Then after I get the random number from a random number generator, I find the saved entry and send out an e-mail to the winners. Those e-mails have already gone out, so if you didn't get one, maybe next time! Drum roll please.
Dorothy B is the 1st prize winner. As soon as I hear from her and find out where to send those two dozen roses and one of my books, she'll get her prize. Pam K is the 2nd prize winner. She gets her choice of one of my books plus 3 grab bag titles from my Christian fiction collection. And Brandy B from Texas can't say she never wins anymore. She wins the wind chimes and her choice of one of my books. Then I nearly always pick an extra winner "just because." This time I picked Theresa H. Her e-mail so touched my heart when she told me about her son sending her flowers for her anniversary after her husband died and then how she lost him too after already losing another son. I shared her story on one of the flower story blogs.
I have a few more flower stories to share and still plan to let you enjoy those with me. But today I'm just going to share one. This story touched my heart too. Well, to be honest, a lot of your flower stories had me blinking away tears or smiling. I thank you so much for sharing slices of your lives with me. I do so appreciate all of you and the fun we can have with stories.
The story today comes from Judy.
"After my husband passed away from a
brain tumor I told God that I would never marry again. We had just
celebrated our 8 year anniversary two days before he died. I could never
live through caring for and watching another husband die. Bob was only 44
when he passed away.
Little did I know that God had other
plans for me. When John, my adult Sunday school teacher, asked me if I
would like to see a movie with him, I told him that I would go under one
condition that we'd only be friends. I wanted a big brother type person
and nothing else. He quickly agreed. A couple of days after we saw
a movie I came home to find a bouquet of flowers in a beautiful vase sitting on
my front porch. The card was signed, from your big Brother!
John and I have been married 9 1/2
years! (Never second guess God!)"
What a blessing all your stories have been to me! Stay tuned for at least one more post of flower stories in the next week or so. And thank you for your patience with me. I really didn't intend to be late with the winners. Thanks to all of you who entered. It made the contest fun and made me the biggest winner of all because I got to read all your stories. And for those of you who didn't win this time – maybe next time. I'll be having another celebration for Christmas at Harmony Hill, my Shaker Christmas novella due out in September. Oh, and if you live near me here in Kentucky, I'm having a Hometown Booklaunch this Sunday, July 21, at 2:30 p.m. at the Anderson County Public Library in Lawrenceburg, Kentucky. Come on down. I'm planning door prizes along with talking about my books!