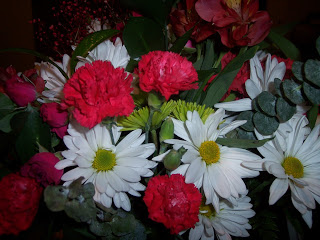 Ten more days to throw your name in my giveaway hat if you haven't already done so. You might win two dozen roses, or if you are one of those people who "never win anything," you can tell me that and be in a drawing for a beautiful wind chime. I'm thinking about throwing MY name in that hat. Just kidding, but it wouldn't matter if I did because I'm one of those never win people. LOL. Also giving away copies of my books to the three prize winners along with some other Christian fiction books. See all the details on my website News & Event Page. Deadline for entering is midnight EST on July 13, 2013. Enter by sending me an e-mail or leave a comment here with a way to reach you should you win.
I took a little break from my flower stories to share my St. Louis trip with you, but I've got a few more great stories to share. These aren't particularly romantic – more the "I'm thinking of you and I want to do something to make you feel better" flowers. First let's see what Nancy has to tell us.
"You asked for stories about unexpected flowers from the garden being shared. Just last week that happened to me. My sister-in-law came by my home while my husband and I were out celebrating our anniversary. She left a bouquet of hydrangeas from her garden along with a card and 2 pieces of homemade banana cake as a little 'thinking of you' token for our anniversary. And it made it all the more special because she just lost her husband of 37 years (my brother) after a brief (but devastating) bout with an inoperable brain tumor through which we all suffered together. This was her first venturing 'out and away' from home – so she told me later she found it empowering. So that bouquet meant so much to me in so many ways. Thanks for letting me share that little story – and I know my telling or wording of the story didn't do it justice."
I think you told it just fine, Nancy. Thanks for sharing with us and prayers coming out to you and your sister-in-law.
Dawn tells of a time when her friends came through for her.



"One of my favorite bouquet stories is the year that my three
friends all had boyfriends for Valentine's Day and I didn't and my friends sent
me flowers!!!"
Dawn does go on to say she loves those dandelion bouquets from her 3 year old grandsons. Dandelion from kids ranked high in the best surprise bouquet memories. 🙂
Linda tells this story.


"I was once surprised by a beautiful bouquet of
flowers by my husband's boss…my husband travels a lot for business and had to
be out of town on my birthday. I was ok with it as we could celebrate
anytime but his boss felt so bad so he sent me flowers!"
Now that's some boss!
Theresa shares a story that might bring tears to your eyes. It did mine.
"I was surprised by
flowers on what would have been my 31st wedding anniversary. My husband had died just three months earlier at the age of 56. My
youngest son who was only 24 gave me a bouquet of flowers because he said Dad
wasn't here this year to continue the tradition which went back over 50 years
with my in-laws. It was a flower for every year of marriage. He
kept it up but he died at 34 just six days after the 10th
anniversary of his father's death on the day which would have been my oldest
son's 46th birthday. He died while in the Navy at age
19. It comforts me to know they're together and I will see them again one
day."

So sorry you've lost so much, Theresa, but it's clear that your memories are filled with loving moments.
Last Misty shared a story that can make us smile. She was smiling all the way home that day.
"One day I had a friend leave flowers all
over my car while I was at work. When I got to my car that night I saw all
these pretty blooms all over it!! I had been having a tough time and he thought
this would cheer me up! And yes, it definitely
did!! Still one of the sweetest things anyone has ever done for me!"
Being a practical girl, I asked Misty if she had to clean the flowers off her car before she could drive it. Inquiring minds want to know! 🙂 Here's her answer. "Actually, I did have to clean off the flowers in order to drive home! But
it was great!! I didn't mind at all! I was actually laughing the whole time I
was getting the flowers picked off."
Hope you enjoyed these flower stories. I have a few more that will make a blog appearance before the end of the contest. If you have a flower story you'd like to share, I'd love to hear it. (Or read it.)
Oh, and here's another chance to win a copy of
Small Town Girl.
Jay Tanner, the guy in the story who is a definite charmer, is trying to charm readers in an interview on
Margaret Daley's blog
. Leave a comment there to have a chance to win my book or one of the other books she's featuring this week. The character interviews are always fun. I've never done a guy character before, but Jay was a good one for the first. As I said, he's a charmer and he charmed me while I was writing his story.
Hope you have a safe and happy 4th of July!