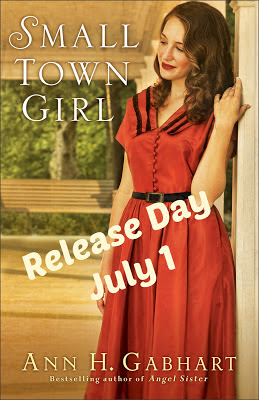 It's July. That means Small Town Girl is officially released. It's always a banner day for a writer like me when a new book hits the market. Way back in 1978 when my first book was published in the general market as a mass market paperback, I expected to see it on every stand. I didn't think about how many books are released every month and how the store shelves couldn't possibly hold all those books. I just thought about my new book and how much I wanted to see it on one of those shelves. I even went store hopping, hoping to spot my book. We had no bookstores in my hometown then and still don't, although we do have a Wal-Mart that carries a small selection of books now.
So I went to the towns close by where there were bookstores and retail places that carried books. The nearest bookstore was called The Little Professor. They didn't have my book until I very shyly asked them about carrying my book, but then they were very supportive. The other place I could tell people they could find my book was Klink's, a local drugstore in my hometown. The owners stocked my book even though they didn't normally carry books. That was a real boost for a young writer like me and gave my hometown friends an easy way to get the book.
Of course, people could ask for the book by title at any bookstore and the bookstore would order it, but that's something not many people seem willing to do. They don't have to now. A reader can find everything on the internet, but I still like those bookstores. And I still like seeing my books on the shelves at some of the retail places. It's also fun when readers and friends tell me they spotted my book at a store in this or that place. If they've known me a long time, they always sound a little surprised that my book is showing up in Florida or Kansas or wherever. I'm always a little surprised too. But glad. Very, very glad.
So I'm hoping Small Town Girl will be popping up in lots of places and finding its way into readers' hands. I haven't checked the internet so don't know if there are reviews out there yet except for the Publisher's Weekly one I wrote about here a few weeks ago. I have gotten a few comments from family and friends who got an early copy of the book. Thank goodness, family and friends are nearly always nice. So I've gotten a few "I enjoyed your book" comments and I'm sure I'll be seeing reviews popping up soon. But today, I'll just enjoy it being RELEASE DAY! It never gets old seeing a new book ready for readers.
So remember, I'm celebrating Small Town Girl with a website giveaway. The winner will get two dozen roses and a choice of one of my books. The second place winner will get a choice of one of my books and a couple of other Christian fiction books. Then the prize for those people who tell me they "never win anything" will be a wind chime and a choice of one of my books. Plus, she or he won't be able to say she or he never wins anything any more. Just send me a message via my website or leave a comment here on One Writer's Journal with a way to reach you should you be one of the winners. Deadline for entries is July 13 at midnight EST.
Thanks for sharing my release day and for telling your friends if you like my stories. And I do hope you'll like going back to Rosey Corner to see how Kate and the gang are getting along five years after the story in Angel Sister.