St. Louis – the Gateway to The West. Some might say St. Louis was the second gateway to the west, because at one time the Cumberland Gap into Kentucky was considered the western gateway. In the frontier days, the western frontier kept getting just a little farther west all the time as the pioneers kept moving on in search of land and gold.
But they say if you're in St. Louis, you should go to the top of the Arch and look where you're headed and where you've been. So Darrell and I can mark that one off our bucket list. Here we are at the top of the Arch.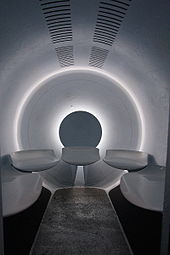 First we were warned not to buy tickets if we were claustrophobic or couldn't do stairs. No, not because they thought the tram might break down, but because steps lead to the little cars of the tram. Don't the cars look like something out of Star Trek? With his newly repaired knee, Darrell had a hard time crawling inside and then bumped his head on the short ceiling. Plus he had that walking staff. But he was a sport and the view from the top was fantastic even though the windows were merely small, rectangular slits implanted in the curve of the Arch.
We rode up with a couple from New Zealand and down with a couple from California. Isn't that one of the fun things about being tourists? Meeting other tourists.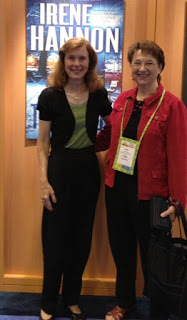 And a great thing about being at the International Christian Retailers' Show was meeting people from all over the world plus some other writers I've heard so much about and read their books. One of those was Irene Hannon who was signing one of her popular mystery suspense books, Vanished, at the Baker Books Booth. I missed out on getting her book. The line was too long, but I did get a photo with her before the signing.
I also was fortunate to be able to sign an advance reader copy of my book, Christmas at Harmony Hill for the people at the show. So that was fun and you know what? That's something else I can cross off my bucket list. It was fun meeting so many booksellers and Christian book store owners from all across our nation and the world. I shared a table during a break time with a couple from Hong Kong, signed books for people from Nigeria and Malaysia and Australia. Meet a few Canadians too. All good fun in St. Louis.
Remember about my fun contests going on now to celebrate the release of Small Town Girl. Check out the details on my website or my June 9 blog post, "Celebration Giveaway Fun." Easy to enter and you might win two dozen roses or wind chimes or books. I got lots of autographed books at the convention that I will be giving away in the months ahead. Yay!! But first we'll celebrate my new release. There's also a Facebook contest going on my Facebook author's page. Click on the Win $50 Gift Cards tab there to see details on how you might win if you order Small Town Girl. Worth checking out. Not that many have entered as yet.
Thanks for reading and I'll share some more flower stories Sunday – probably. You never know where I might head off to here on my journal. But I do thank you for tagging along.
What's on your bucket lists of things you want to do before your time here on earth is through?