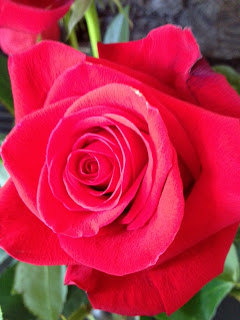 "The rose speaks of love silently, in a language known only to the heart."
Roses, those most romantic of flowers!
And so, of course, many of the flower stories you shared with me feature roses.
My husband is a very romantic guy and hardly ever forgets Valentine's Day or our anniversary. One year he sent me a dozen perfect red roses for Valentine's Day. Those roses were beautiful, but then the bill came. Wow! Those roses were not only beautiful, they were EXPENSIVE! I think the price must have sky-rocketed for Valentine's Day that year. Either that or they had a rose shortage. I decided roses were more fun without a price tag attached. 🙂 Actually now I've gotten a few of those sort of rose bouquets from a friend who drives a flower truck. When they can't sell all their roses by a certain time, they throw them in a dumpster. He's saved a few dozen now and again to share with his friends. But I do remember those beautiful roses from years ago – and their price tag! LOL
Brandy tells us about a young boy who knew the power of a single rose when it came to romance while he was still in middle school. Here's her story.
"When I was in
middle school we had a band competition out of town. Afterwards I was supposed
to have a movie date with a boy. He left on the early bus home. Ours got
delayed by about three hours. We finally arrived at the movies and he was still
standing outside with a rose!! So sweet I will never forget that."

And roses delivered at work can make a girl happy too. Ellen is still smiling when she remembers a delivery of roses to her place of work even though it happened a long time ago.
"My husband was in the National Guard Army Reserve when we
met. We dated a few months when he had to go to 'summer camp.' On the
day he left, I received a dozen red roses at work! What a surprise and boy, were
the other gals jealous. (smug smile here) That was almost 50 years ago."
I can almost see that smug smile of yours, Ellen!
Cindy says roses can be a pretty good reason to get reacquainted with an old friend from high school.


"My husband surprised me
with my first dozen yellow roses (my favorite) on Valentine's Day when we first
got together. That's a story that would make a great novel. We knew each other
in high school and 32 years later, neither of us had married and he came
looking for me. I still lived in California in a big city and he moved back
to marry me in a small town in Indiana. So now I'm a Small Town Girl. Every
Valentine's Day he still sends me yellow roses. We've been married 12
years now."
When Cindy gave me permission to use her story, she shared more.
"Actually, we never dated in high school, I had a crush on him but
he was all into his basketball. Our best friend started a Bible study
that we both attended as we were both new Christians at the time. There
is so much to the story…it was definitely a God thing happening in His
timing. We have truly been blessed."

But roses aren't always for romance. Sometimes they are just to say thank you. Robin shared this story.


"I was very touched and surprised once when I was working at the bank. I was working at the
downtown branch, so we had several customers that received various forms of
Social Security checks. SS check day was usually very busy &
sometimes quite hectic. Well, this particular day was worse than usual
until one of my sweet 'little old man' customers walked up to my desk
with a single rose in his hand and said he thought I needed a smile. I
almost cried, it was so sweet!! Thanks for
stirring up this memory for me Ann!"
And one last "thank you" story. It's no wonder Linda remembered it. A great story.
"I rarely get flowers expected or
otherwise. I did one time many years ago get a beautiful bouquet that was
totally unexpected. I had taken care of a young man in the hospital who
had survived an attempted suicide. He had had several surgeries and I had
cared for him through the entire hospitalization. When he left, he had
two dozen perfect red roses sent to me as a thank you. We stayed friends
for a long while but finally he moved and we lost contact."
Hope you are enjoying the flower stories. If you haven't shared your flower story yet or entered my
Small Town Girl Celebration Giveaway
, you still have time. Leave a comment here or send me a message to me. annhgabhart(at)yahoo(dot)com.
I've also got a new giveaway going at
Goodreads
. You might win a copy of
Angel Sister
there. And to keep the celebration going, I'm doing a Facebook Contest on my Facebook page. (Still getting the bugs worked out of the link on that one.) But when we get it up and running, if you pre-order
Small Town Girl
, you might have a chance to win a $50 gift certificate.
Whew! How am I going to keep up with all these contests and get that new book finished? I know. You are all going to send me great positive thoughts and prayers. I thank you for that. 🙂