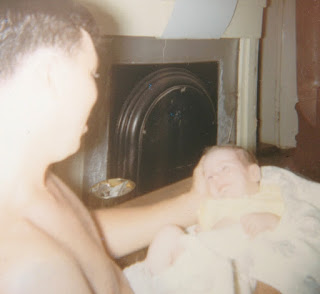 "Any man can be a father, but it takes someone special to be a dad."
Happy Father's Day to all of you out there who are fathers or had a father. The picture is of my husband and our first child. My husband and I were both so young, but we were a family. I've always loved this picture. You can almost see the love bonding between father and son.
But as our preacher pointed out this morning, not every child had or has that loving dad. He didn't, so he knows. Still, we want to celebrate those who are good dads. I've been blessed to know many wonderful, loving dads. My father. My father-in-law. My husband and his brothers. My sons. Many of the men in our little country church. Dads to celebrate!
It's fun that one of the flower stories I received for my Small Town Girl Celebration Contest ties in so well with Father's Day. Thank you, Carol, for sharing your happy flower story.
She says, "My favorite gift of flowers was a wrist corsage from my father, which he gave me when I played a piano concert when I was about 10. It was my first adult gift of flowers, and a total surprise, given to me by the man I idolized. No flowers will ever mean as much to me. Dad passed away in April 2012, and I miss him every minute."
When I e-mailed Carol for permission to share her story she sent me a photo of her handsome dad to go with her flower memory and added this information about him.
"My Dad was a very special guy. He fought in WWII, then served the U.S. in the Air Force for 23 years, retiring as a colonel, then went to work for the Army as a weapons development engineer. And through it all he did special things to make us feel loved – gifts from all over the world for my Mom and all five of us kids, trips to museums, figure skating with his girls, etc. He even brought home a large glass lens that would later be used in a military camera lens, and let us each have a chance to help grind the lens! Wonderful memories!"
Precious memories. It's been great seeing all the pictures of dads on Facebook today as we do have those precious memories. I hope you have wonderful memories of your dad or if you are the dad that you are making great memories with your children.
If you haven't left a comment or sent me an e-mail, annhgabhart(at)yahoo(dot)com, to throw your name in the hat for my contest, you still have time. Deadline for entering is July 13 at midnight EST. And I'd love to hear your flower stories too. Not a requirement for entering, but fun. If you do send a flower story, let me know if I can share it forward. No last names or places, so your privacy is protected. And again, Carol, thanks for sharing about your flower corsage and your dad.
Thanks for reading!