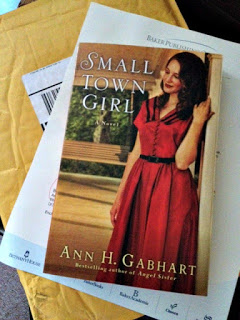 The UPS man came calling yesterday and when I opened my door, there on my the step was that much awaited package – my new book,
Small Town Girl
. All my words neatly printed and packaged in a great cover. There's our small town girl, Kate in her red dress standing on her front porch thinking romantic thoughts. She is, don't you think? And here I am inviting readers to return to Rosey Corner five years after
Angel Sister
to see what happens to the Merritt sisters when romance starts knocking on their doors.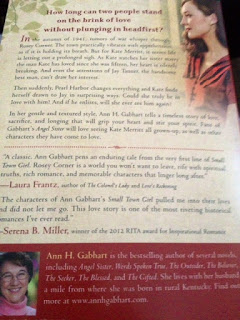 My publisher has this great perk that lets me (and other authors too) get some free books by other writers from the catalog where my books are featured. That means I often get padded envelopes from my publisher with books inside. So I wasn't really expecting MY book. In fact, I almost pitched the package down on the table to open later. It was a fun surprise when I opened it up and pulled out Kate. I'd seen the front cover on the internet, but this was my first peek at the back cover. I liked it too.
I've been blessed to hold a lot of first copies of my books in my hands, and each time the thrill is still there when I see the printed book with my name as author. Somebody, actually several somebodies, believed my story was good enough to take my words and print them in a book to go out to stores for readers to maybe look at and buy. What a wonderful circle of author, editor, publisher and reader! Could be, I should put reviewer in there somewhere too. If you write reviews, I appreciate you. It's not always easy to condense what a book is about and what you think about it into two or three paragraphs. You have to make every word count.
Of course, that's what writers are supposed to do all the time. I figure with twenty-four books published (I think) and several still unpublished I'm nearing two million words I've written down and rearranged and deleted and added and squeezed and plumped to try to make my stories ones readers like you might pick up and settle down in your reading chair and want to stay with the story for a while. And now I have a new story, Small Town Girl, coming your way.
A newsletter will also be coming your way if you're on my e-mail newsletter list. As always I'm having a giveaway. Newsletter subscribers get to see that news first, but I'll be putting it on here come Sunday night. I'll also be revealing the winner of the e-book version of Mother Earth Father Sky by Sue Harrison. I hope you enjoyed her visit to One Writer's Journal as much as I did. If you haven't left a comment on her post yet, you still can to get your name in the pot for the free book. And come July, I'll be having a special blog only giveaway. So stay tuned and we'll have some fun going back to Rosey Corner.
Thanks for reading!