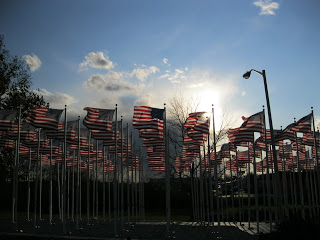 "It doesn't take a hero to order men into battle. It takes a hero to be one of those men who goes into battle." (Norman Schwarzkopf)
Do you know why we have a long Memorial Day weekend? Some people think of it as a day to decorate the graves of their loved ones who have died. And that does happen at cemeteries across the country. But actually Memorial Day began as Decoration Day back in the 1860s after the Civil War. Wives, mothers, and sisters began decorating the graves of the fallen soldiers. It's thought as many as 700,000 men lost their lives in the Civil War, a lot of graves to decorate. Perhaps the women, who began the tradition, picked a day in late May because they had many blooming flowers for the grave decorations.
It wasn't until 1967 that Federal law changed the name of the remembrance holiday officially to Memorial Day. The next year the date was changed from May 30 to the last Monday in May. Not everybody was happy with that change because they thought the real significance of the holiday – remembering those who'd been killed in wars – might be lost when the day became part of a three day weekend.
Most communities have special observances to honor our soldiers. In our town, we have what is called the "healing field" where soldiers from our area who died in wars are honored with a flag. When you think about how that kind of memorial could be repeated in every town all across our country, you begin to realize the sacrifice so many have made to keep our country free and to stand up for the freedom of other countries as well. This weekend, thousands and thousands of flags will be placed on veterans' graves in honor of their service and sacrifices.
At our church this morning, we had two Vietnam War veterans. Men who answered the call when their country asked for their service. They made it home. Many did not. Over 58,000 soldiers were killed in that war. 11,465 of those killed in action were younger than twenty. The Korean War claimed almost 40,000 American casualties. World War II saw at least 60 million people worldwide killed. U.S. Military casualties were 416,800. World War I, the war those who fought it thought would end all wars, resulted in 126,000 American soldiers' death.
My books often have scenes of war in the stories, and in my research for these scenes I have read many great stories of the men and women who have served our country in time of war. Most of these soldiers were ordinary men, and sometimes women, who responded with extraordinary valor when they stood in the gap to defend their country. Wars throughout history have claimed the lives of some of the finest among us and are still doing so today. Let us pray for peace and for our soldiers to come home safely. May we never forget those who did not. God bless America and our soldiers and their families!
Arlington National Cemetery