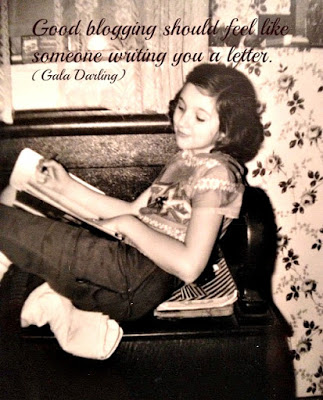 "If you love writing or making music or blogging or any sort of
performing art, then do it. Do it with everything you've got. Just don't
plan on using it as a shortcut to making a living." (Seth Godin)
This is my 544th post on One Writer's Journal. When I started this blogging adventure in January 2008, I only posted once a week. Here's the very first paragraph I blogged.
"Hi, everybody. I'm just a country girl who's been writing forever. I
hope to share some of what I've learned about writing over the years and
some about being a country girl through and through."
And the last paragraph in that first blog:
I'll tell you more about growing up in the country next post. Wouldn't
want to give away all my secrets the first day. These blogs have a
ravenous appetite for words.

Boy, was I right about that ravenous appetite of blogs! Words, words and more words. And by now, if I had any secrets, you probably have had a chance to read them all. It's a good thing I like journaling as I told you in Post 2.
I'm figuring out what exactly I want to write about in my blog. I've
been a journal writer forever, but that's writing to myself. Now this
may be writing to myself too, but it's like leaving my journal open out
on the kitchen table where anybody can read it. That might be okay.
I've done some of my best writing in journals. How about you? Are you a
journal writer?
Since then I started posting twice a week and left my journal open on a lot of nights. I want you to know I've appreciated each and everyone of you who has taken a peek. I've also needed to remember this bit of advice from Liz Strauss. "The Internet has no eraser."Once something is posted, it's out there. It's hard to grab back and completely make it disappear.
So I've tried to remember to share encouraging words and fun stories. And now I'm letting Jocie from my Hollyhill books do her own blog once a week. Hollyhill Book of the Strange. The picture up top is the one I have on that blog. It's me a long time ago when I was only beginning to scribble words in notebooks to make stories. I've scribbled and typed and word processed millions of words since then. And hope to have another million or two in my fingers.
Some of that million will be here on One Writer's Journal where the great thing about blogging is this from an anonymous (no doubt blogging) writer. "Blogging is not rocket science. It's about being yourself and putting what you have into it."
"Blogging is to writing what extreme sports are to athletics: more
free-form, more accident-prone, less formal, more alive. It is, in many
ways, writing out loud." (Andrew Sullivan)
Writing out loud. That's a good way to look at blogging.
So what do you think? Do you like to blog? Read blogs? What advice would you suggest to make my next 500 plus blogs more fun to read?