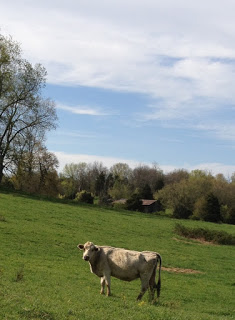 What I miss today more than anything else – I don't go to church as much anymore – but that old-time religion, that old singing, that old praying which I love so much. That is the great strength of my being, of my writing.~ Ernest Gaines
I got to eat breakfast with writer friends Lonnie and Roberta Simpson Brown at the Southern Kentucky Book Fest on Saturday. Roberta writes ghost stories. While she looks like somebody's sweetest ever grandmother, her stories might not exactly be the kind of stories grandma would tell you – especially right before you went to bed. At least not if she didn't want the kids to be crawling in bed with her to keep the ghosts away. Roberta is known as the "queen of cold-blooded tails" by her friends. You can check out her and Lonnie's books at
Roberta's website.
She'd be the perfect storyteller to have sitting around a campfire with you if you wanted to have chills crawling up your back and to keep checking over your shoulder for something going bump in the night. Her husband, Lonnie, also writes some of the stories, so when they go on the road to a book event, they go as a team.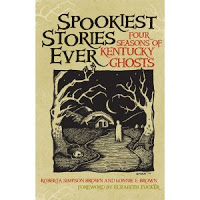 Breakfast isn't much of a ghost story telling time. So we were talking about less scary things like how things used to be back when we were all quite a bit younger. Lonnie said he used to spend Sunday afternoons counting the cars that went by their house. That made me laugh because while I don't remember counting the cars, I do remember noticing every one. And we knew who was driving each of those cars too. A different car, one we didn't know, was reason to wonder what that driver was doing on our road. Sometimes we didn't even have to look at the cars to know them. We could tell by the sound of the engines. Lonnie said they'd know Uncle Willie was coming before he topped the hill.
Then he said another of their past times on a lazy Sunday afternoon was leaning on a fence rail and watching the cows graze. That's how come we have a cow picture tonight. I don't think I ever watched the cows graze, but the little calves running around are pretty cute. Back in the day, things were considerably slower out in the country where people like Lonnie, Roberta, and I grew up.
Sundays were different. After that wonderful Sunday dinner that your mother fixed and put in the oven before leaving for Sunday school, most of us took the day off. Sometimes people went for a Sunday drive. That was when gas was around a quarter a gallon. Folks would drive down all the country roads and see what the neighbors were up to. Or maybe you'd go visiting relatives.
That's what happened around my house. We went to our cousins' house or they came to ours. Cousins can be the best friends. We'd be outside in the woods as soon as Sunday dinner was over. The grownups would maybe play Rook or just talk away the afternoon. In the summer, the men might make ice cream in the White Mountain ice cream freezer. Neighbors would drop by to sit on the porch and pass the time of day. You kept a swatter handy to kill the pesky flies. My husband would have been off fishing when he was a boy and then back to church after getting the cows in early to milk. And even on Sunday, there were always chores to be done, animals to feed, wood to pack in during the cold months, water to carry into the house.
We didn't have electronic toys. We had grapevines in the trees instead of swing sets. We made mud pies and went wading in creeks. And we chewed on sweet grass and watched the cows graze. But those were good days. What about your Sunday afternoons? What did you do when you were growing up on Sundays?