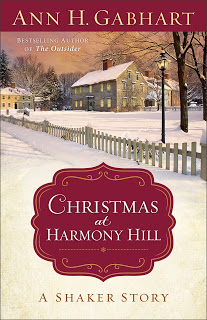 Happy Monday morning! I'm late with this post because I was out of town yesterday. So to make up for it, let's be early and talk about Christmas. I got the galleys on my Shaker Christmas book last week. So I'm going to have to invite the snow and chill winter winds into my imagination for a few days as I work over the story. Here's a peek at the cover. Do you like it?
Have you ever wondered about the editing process a book goes through on its way out to the reader? First there are all my own edits before I decide I've done the best I can with the words telling my story. Then off it goes to the first editor who reads it and decides if I've written a story that readers might spend money to read. That editor might suggest major plot changes or improvements as well as more minor points to improve the story. Then once she or he approves the rewritten manuscript, the book will eventually go on to a copy editor who will look for all those little things that might be missed in the bigger edit.
This editor makes sure I don't have the characters doing something on Friday and then going back to Thursday. Time lines can get confusing in a historical novel. This editor and the proofreaders make sure if your character sings a song or reads a book in your story that the song or book was actually written by the time of your book. I've made that mistake a few times.
They also catch all the times you use a certain word too many times. I always, always have a pet word. I'll shove one of those words out in the cold and tell it that it can't be my "pet" anymore and another word will slide right in to take its place. So now I have a whole stable of "pet" words that I have to be careful to not like too much. What are some of them? Just. Still. Before. Of course. To name a few. Usually transition words of some sort that help me keep the words going. Nothing wrong with that in the first draft. You need to keep going in the first draft, but then I need to edit some of them out. Of course, I still like them just before I get out the red pen or hit the delete key. 🙂
Then I sometimes have a sentence that runs along too long. Commas are always an issue too. Editors generally like commas more than I do. You wouldn't think an author would worry about a little added comma now and again, but sometimes we do. To our writing ears, a comma in the wrong (or perhaps right!) place messes everything up. Editors have to have the patience of saints at times.
Once the galleys are worked over and the author and editor have "fixed" everything as well as they can, then there's still one more edit. This is called editing "the pages." Here a writer is more or less proofing the book to look for minor mistakes like typos or something that might have been missed in the previous edits. Not a good idea to make lots of changes at this stage. That's why I'll need to work through these galleys to make sure I change what needs changing now.
It will be a while before Christmas at Harmony Hill will be ready for the store shelves. Its release date is September 15, my birthday. That's sort of neat. I'll have extra reason to celebrate. But before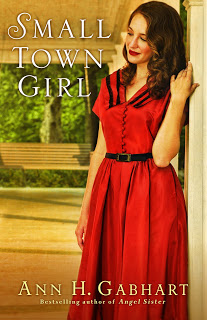 that book comes out, Small Town Girl will be out in July. Both books are already available for pre-sale on the internet, so you can go ahead and order your copy.
So much fun to have new books coming out. This year has been especially busy for me with the re-release of Scent of Lilacs and looking forward to Orchard of Hope re-releasing in the fall. Then the two new books, Small Town Girl and Christmas at Harmony Hill, A Shaker Story, out too. Gives a whole new meaning to "so many books, so little time" for me. But it's fun to have new stories, and old ones too, out there for my reading friends.
I appreciate all of you who take time to read my journal. Thank you so much. So what do you think about the new book covers?