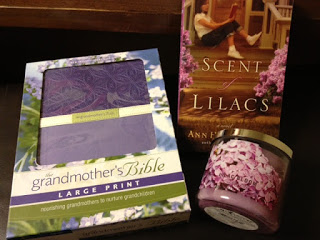 Tonight I've finally got the winners of my
Scent of Lilacs
Celebration Giveaway. It wasn't easy, let me tell you. I pick the winners by random numbers. Each e-mail I get goes into a special folder and the sender gets numbered according to when I receive the e-mail. Well, imagine my extreme distress this a.m. when I click on that folder and it shows a number as to how many e-mails are stored there, but then instead of the messages coming up this little box comes up that says the folder is empty. All the other mail folders work fine. Messages pop right up. Panic time!! I thought I might have to wade through all my sent e-mails to try to figure out which of you had entered the contest. But then I tried my iPhone and wonder of wonders the messages came up in the folder on it. Not sure how or why that happened or why they don't show up on my desk computer or my laptop, but do on the phone, but I'm just glad they did. I'm going to tell you who won. Really, I promise I am! But first let's enjoy two more grandmother stories.
Donna shares a wonderful story of how sometimes the Lord blesses us in the midst of troubling times when the last thing we're expecting are blessings. Here's her story –
I have many stories I could tell of my
grandmothers, but my greatest grandmother blessings I actually received as an
adult. Following a stroke (her granny's stroke), I helped my dad and my aunt care for my granny
by staying 2-3 nights a week with her. I would work all day in a
classroom, drive a morning & afternoon bus route, then go to my granny's
house, cook supper, and then do whatever granny needed, which most nights
had to do with quilting. She couldn't cut fabric anymore, nor use her
sewing machine, but she could still hand piece and quilt. So many times I
would be so tired and not want to set up a new quilt top in the frames or cut
out quilt squares & place in ziplock baggies so she wouldn't get
confused. I didn't realize it at the time, but while I did these things
for her, she was bestowing on me the blessings of knowing the stories of her
life. She gave me the desire to write and share similar hardships,
trials, faith, & love with others. Later at her bedside as she was
going to sit at the feet of Jesus, I realized that she became an integral part
of the woman I had become.
Next Rosemary shares how an object can keep memories alive for us.
"I would like to share
a little story about my grandmother. Us kids
would go over
to visit and she would give us slices of fresh homemade Portuguese bread, with
butter on it and serve us little tea cups with tea in it. We
would sit with her in her favorite chair which was in the kitchen. She
had a large black iron stove that had the metal round tops that would come
off. You must be able to picture the stove I am talking about; anyway, we would be warm and cozy. That same chair we sat on with
her, my mom sat in it and would watch out the window to see if the bus
was stopping to see if my dad was coming to visit, he was a sailor and
stationed in Boston Massachusetts – 1951 … yep !!! well, I sat
with my grandmother in that chair, and I fed and rocked my granddaughter in
that same chair, reupholstered, in 2003 and I still have that chair in my
sitting room!!! I love that chair and its memories!!!!
And I have loved the memories and stories of your grandmothers. I read every one of them, often with a smile and sometimes with a nod of the head that yes, I have felt some of the same things you felt. You have all been such a blessing to me that I am, without a doubt, the biggest winner tonight. Thank you!
But there are a few of you who are also winners. Drum roll, please! The 1st place winner of the lilac Grandmother's Bible is Sharma D. of KY. The two 2nd place winners are Diane K. (not sure which state yet) and Rita W. of CA. They will get a grab bag book by a Christian author and their choice of one of my books. And Tawnya P. of WI won't be able to say "I never win" any longer. She wins the lilac candle and her choice of one of my books. I've sent all of you winners e-mails and I'm waiting to hear back from you which books you are choosing as your prizes.
Now what memories should I ask you to share with me on my next Celebration giveaway?
Memory
is a way of holding onto the things you love, the things you are, the
things you never want to lose. ~From the television show The Wonder Years