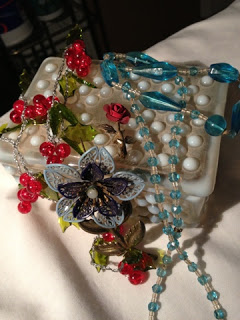 "The history of our grandparents is remembered not with rose petals but in the
laughter and tears of their children and their children's children. It is into
us that the lives of grandparents have gone. It is in us that their history
becomes a future." ~Charles and Ann Morse
One more week to enter my
Scent of Lilacs
Celebration Giveaway, so if you haven't entered yet, you still have time. Just send me an e-mail form
my website
or leave a comment here with a way to contact you should you be one of the winners. And tell me about your grandmothers if you want.
I have had such a great time reading about the grandmothers who have blessed your lives and about the blessing you hope to be to your own grandchildren. I hope you're not tired of grandmother stories, because I have a wonderful story to share tonight. In Scent of Lilacs, there's an older character named Aunt Love who is anything but a loving grandmother figure. She's crochety and beginning to lose her memory. She drives Jocie crazy, but there are things Jocie doesn't know about Aunt Love.
That can be so very true about all our grandparents and great aunts and uncles. We don't know their whole stories. I'm not sure we can ever know anybody's whole story no matter how many of those stories they've shared with us. That's true with the story BH shares about her grandmother who experienced some hard times through no fault of her own, but her family loved her and helped her through her troubles. It wasn't until much later that BH knew more about her grandmother's story, but she always cherished the one visit she had with her when she was a child. A visit that it turned out her grandmother cherished just as much. Here's her story.
Never really having grandparents in my life, as
my maternal grandparents had passed on in my early age leaving me, an only
child, with only my paternal grandmother who lived in another state. My father was her only child.
A very reserved and quiet lady who never really talked much, she lived in the family home which was 150 yrs. old
with my aunt and uncle who lovingly watched over her. She loved collecting
costume jewelry and would sometimes
take the necklaces and bracelets she received apart and restring
them into new and unique pieces.
One Christmas my parents decided to take the
long trip to Iowa and visit everyone. There were no young cousins or children
around so I spent a lot of time with my dolly sitting on the couch with my
grandmother watching her restring all her beautiful baubles. She amazed me with
her smooth graceful hands and fingers and the way she made each one look so beautiful,
never saying a word, just smiling with seeing what she had just created.


After a couple days of sitting and watching
her, she asked me if I would like to make something. Of course I was thrilled
but scared I might break her precious jewels. She slowly guided me on how to
hold the needle without sticking myself and how to slide each gem and pearl
into its rightful place.


That first necklace was full of many colors and
I felt so proud of how beautiful it had turned out. In making it, I would look
up at her and she would smile, never saying a word, but I knew she was pleased
and that made me very proud of my new learned craft. The second necklace I made
she told me I could have and take home. The first necklace I liked the best but
she said she wanted to keep it. I wasn't sure why and didn't question her
reason, just feeling happy that I could wear one and take it home with me.


Our stay was short and we never visited again
until I was grown & married with our daughters. My girls loved our visits
each summer back to Iowa and watching our Grammy restring her jewels.


When she passed on, my aunt gave me her old
cedar jewelry box full of many pieces of jewelry. I noticed a couple pieces we
had sent her for her birthday and Christmas that she had never taken apart to restring. Plus, there was that first little
necklace I had made that Christmas. When I mentioned that to my aunt, she said the ones we'd given her were her very favorite
pieces that she wore to church each Sunday. That
really touched my heart to think she cherished those the most and had also kept that
little necklace I had made while sitting next to her on the couch that
Christmas.


To this day I can still see my Grammy sitting
on that couch, restringing her beautiful treasures with that smile on her face
and feeling grateful she and I had that short time to get to know one another
and share her beloved hobby.


Thank you for letting me share a very fond
and loving memory of my grandmother~

And thank all of you for sharing your grandmother stories with me. I couldn't share them all forward, but I hope you've enjoyed the ones I have shared. If your grandparents are still living and able to share their stories, I hope you will take time to enjoy the treasure of their memories.