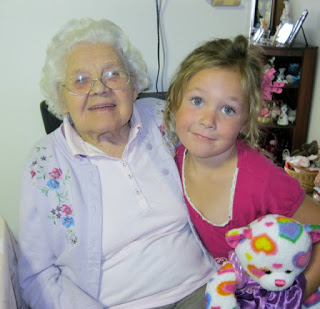 Mom with one of her great-granddaughters
Every
time I have a new book release or in the case of Scent of Lilacs re-released, I like celebrating with my reading
friends. And what better way to celebrate than to give away some things?
And what am I
giving away?
Funny
that you should ask since I was just about to tell you. A Grandmother's Bible. Some
of you may remember I did a giveaway with this Bible a couple of years ago, but
so many people commented on really, really wanting to win it that I thought why
not give another copy away? I'd been trying to think of something that would
tie in with my book's title, Scent of
Lilacs. Maybe I should have hunted up a garden catalog and mailed the
winner a lilac bush. That would have been neat, but then the winner might have
lived in an apartment without a yard. With lilacs on my mind, I remembered
that purple Grandmother's Bible–a very
lilac purple. Plus, in the story, Aunt Love is always trying to improve Jocie's
behavior by quoting Scripture to her. Not in a sweet, grandmotherly way, but
verses from the Bible at any rate.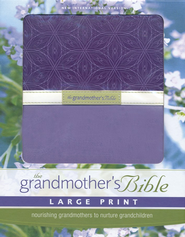 So top prize in my new giveaway is a beautiful
lilac leather-bound Bible (NIV) with all kinds of extras for grandmothers to
help guide their grandchildren along the right paths in life. Two second place
winners will get their choice of one of my books and a grab bag book by a
different Christian author. And I haven't forgotten those of you who say you
never win. One by one, we're changing that. If you tell me you never win when
you send your entry, then I'll enter you in a special drawing for a lilac scented
candle and your choice of one of my books. To enter send me an e-mail from
my website
or leave a comment here.
Since I've got two giveaways overlapping a bit
here, you can leave that comment on this post and also scoot in at the last
moment for an entry in my blog giveaway. Jocie on
Hollyhill Book of the Strange
will be shouting out the three winners of
Scent
of Lilac
next Monday on her blog. Thanks
to all of you who have made the month fun with your comments. Deadline for
entering the new
Scent of Lilacs
celebration
giveaway is midnight EST April 1, 2013. You must be eighteen to enter.
For
fun, I invited you to tell me a grandmother story. You don't have to in order
to enter, and a bunch of
you have loved telling me about your grandmothers. I haven't gotten to read all
your stories yet, but I will. Meanwhile, I have read a few to share with you tonight
with the permission of the writers. So here goes.
First,
can any of you top Mary's grandmother in numbers? She says, "When my grandmother passed away I was one
of 101 grandchildren and she also left 103 great-grandchildren. I had 3 more
children after she passed and I have lost count of all the cousins and great
cousins in the family now. We have started having a Cousin's Luncheon every
month, and try to get different cousins to come each month. There are
just too many of us to get all together at once."
Now
if they all showed up, they'd have to reserve the whole restaurant and make sure it was a big one. My dad used
to look around the table when we all got together and tell Mom "Just look what
we started," and there were only three of us girls and seven grandchildren.
Grandmothers
can be teachers too as they help us learn as we grow. That's plain in this
story from Jeanne.
"When I was growing up during my teenage
years my mother opened a little dress shop and it seems like she was always at
work. We moved to be closer to her shop but since she worked long hours
she just didn't feel like cooking when she got home and neither of my older
sisters ever leaned how to cook.
My sister's were much older and I didn't like being alone at home so every day
after school I would stop by my Gramma B's little apartment for a
"chat." As soon as I told her about "dinnertime" she
told me not to worry that she'd teach me how to cook on her old coal stove –
you know the kind – the ones that make the best cookies in the world!
During the days and weeks ahead she didn't teach me just how to cook. She
also taught me that I had to learn how to do the things I needed to, as she
said, "survive in this world." My Gramma taught me the important
life lessons and she taught me to not only cook but to also sew. She
taught me to be independent but to remember the importance of friends.
Most important of all she taught me about tolerance, giving to others and
helping those less fortunate. This was all taught me by a woman who had
little in possessions or wealth. She taught me from the heart what was
truly important in life.
Most of all she taught me to never think badly of others and I remember the day
she inscribing in my bible – Never judge that ye be not judged –
and in parentheses after it "Always give everyone you meet a second
chance."
I'm 65 now and I only hope that I am teaching my own grandchildren those
important lessons as well and spending time in the kitchen with them teaching
them how to bake.
That's
the way of grandmothers. Wisdom passed down from one generation to the next
along with a lot of love. Some of those who've entered say they never had a
grandmother, because of distance or death. But all of them have said how much
they love being grandmothers now. For the last story this week, we hear from M.
When I was little my grandmother (knowing I liked chocolate)
would take me grocery shopping with her. As we came to the checkout counter she
would say, "I LOVE Hershey Bars but I couldn't possible eat a whole one. Would
you share one with me?" Then she would open it, take one or two squares
and hand me the rest. Eventually it dawned on me what she was doing. Even today
when I see a Hershey Bar I think of her.
I'm glad so many of you have loving memories to share with me. I'm looking
forward to reading more of your grandmother stories in the days ahead. And if
you haven't entered, please do. Remember no story necessary to enter, but the
stories are fun.
Also I'll have a guest post on
"Scattering Hope with
a Smile"
about
Scent of Lilacs
giving me "New Writing
Hope." Leave a comment there on Jo's blog for another chance to win
an autographed copy of
Scent of Lilacs
. I hope I'm not giving away so many books that nobody will have to buy one! 🙂
Thanks
so much for reading and I hope these stories have made you remember how much
you were loved by your grandmothers.