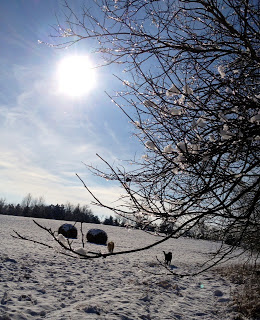 Snow picture on Ann's Farm 2013
We've had a little snow several times this winter, but it has been a little each time. An inch here. A couple of inches there, or maybe only a trace. We even had a little ice one day but it mostly clung to the trees and didn't coat the ground. I like snow like that. The kind that doesn't keep you from going where you have to go.The kind that you can walk around in without wearing hip boots. The kind where the sun comes out the next day and shoots the temperature back above freezing so that the white stuff doesn't out stay its welcome.
But there have been winters in Kentucky where the snow wasn't so accomodating. The blizzard of '94 was one of those times. Snow came down heavy on the 17th of January all across Kentucky with a single day snowfall record of more than 15 inches set in Louisville. In our area a bit southeast of Louisville, we had over 20 inches. You northern friends are probably saying that's nothing, but it was a lot for us. You've got to remember that we're almost south.
But it was what came next that made the storm one to remember. Somebody up in Canada left the door open or maybe it was the North Pole. An intensely cold air mass swept down into Kentucky bringing record temperatures. Louisville set an all-time low of minus 22, but in Shelbyville the temperature plunged to minus 37. I don't remember it being that cold here. Minus 20 something, but then maybe the windows were too iced over for me to see the thermometor outside. 
In Louisville, city snowplows slid into ditches because no one could find the tire chains. It had been so long since they'd been needed, that they'd been misplaced. The state insisted that its top priority was interstate highways. But I-64 resembled a glazed washboard. Ultimately, the interstates got so bad that the governor ordered them closed for two days. Folks stayed home and tried to stay warm.
But even after the roads re-opened, they were still ice covered. I was working then in Lexington and rode with my sister. She had a car that could go, but I remember the jarring ride as we went over those frozen roads. The temperatures were so low that the salt wasn't melting the snow and ice.
We've had other major snowfalls here in Kentucky. The winters of '76, '77 and '78 kept the kids out of school so long they were almost sorry to hear the no school announcement on the radio every morning.
Do you remember the blizzard of '94? Or what storms stopped you in your tracks? I think ice storms are the worst but those cold temps in '94 were hard to like.
As always, thanks for reading. And remember a comment gets you entered in a drawing for a copy of soon to be newly released Scent of Lilacs.