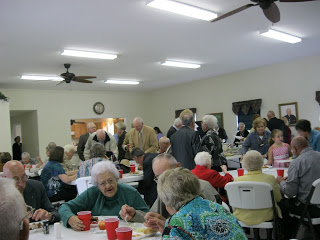 "Nothing would be more tiresome than eating and drinking if God had not made them a pleasure as well as a necessity." ~Voltaire
At my little church, we often have what we call "eating meetings." The practice of sharing meals seems to strengthen our fellowship, and the food's pretty good too. There's little better than an old-fashioned dinner on the grounds. Of course, things have changed over the years with our dinners. As you can see in the picture above that was taken on the day we celebrated our 200th year as an organized church here at Goshen, the dinners have moved inside. We have tables and chairs and air-conditioning.
It was a lot different in the years past. In the old days, a couple of the farmers in the church would sweep off their farm wagons and pull them up into the church yard. Then the ladies of the church, who cooked everything they could find in their larders, would load the wagon down with all sorts of dishes from fried chicken to chocolate cake. Somewhere at the end of the wagons, would be jugs of sweet iced tea or lemonade.
(I borrowed the picture from a Mississippi church website http://www.mayfieldchurchofchrist.org/index.php. I didn't think they'd mind. Old fashioned dinners on the grounds look a lot the same at any country church.)

I've been to church dinners where the food was out on the wagons, but by the time I started going to Goshen's dinners, they had a basement where they loaded down two homemade tables with their homemade food and then had a whole counter full of desserts. Folks got in line and came down the stairs, filled up their plates and headed outside to eat wherever they could find a spot. Sometimes the local funeral home would come out and set up one of their tents to give a little shade from the sun. We have a concrete wall around the parking area that works fine as a bench for the younger folk to sit and eat. The men would often congregate around the brick and concrete church sign to stand and eat. Then there were the church steps up to the side door that made more seating such as it was. People found a spot and enjoyed eating with their neighbors and friends and church family.
We had an eating meeting at church today. Good food and a fine fellowship hall to enjoy it in. It would have been chilly to eat outside today, but there was something special about going to those dinners on the grounds when they were actually outside on the grounds.
How about you? Have you ever been to one of those kinds of eating meetings?
Remember if you leave a comment, you're name will be entered for the giveaway on March 1. Three winners will get an autographed copy of Scent of Lilacs. Each time you comment on a different post, you get another entry, but you do need to leave a name or e-mail address. Oh, and tomorrow on the Hollyhill Book of the Strange, Wes is taking a turn reporting. Check it out Monday.