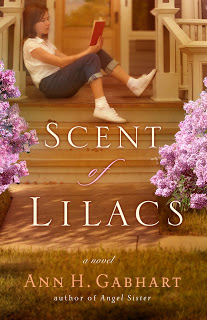 It won't be very many more weeks until Scent of Lilacs, my first inspirational fiction book will be available again for readers. The book has been out of print for several years, but in March it will hit the store shelves with a brand new cover. Some of you have already read my Hollyhill books and I thank you for that. There are three of them. Scent of Lilacs, Orchard of Hope and Summer of Joy.
I appreciate the many kind comments I've gotten about the stories. Scent of Lilacs got a starred review in Booklist with this review. Thirteen-year-old Jocie Brooke prays God will send her a dog and wishes
her senile aunt would stop quoting scripture. The setting is semi-rural
Kentucky. The story revolves around Jocie's dad, David, a newspaper
editor and the "interim" pastor of a little Baptist church. Where is
Jocie's mom? She left seven years ago, taking Jocie's older sister with
her. David's strange marital status explains why he's always "interim"
and also why he's so sad. Jocie gets her mutt, the onslaught of Bible
verses is ameliorated, and real drama emerges as Jocie explores her
family's secrets in this universal tale of growing up.
I call my Hollyhill books Small Town, America stories because I pulled so much of the background for the books from the little town here in Kentucky where I grew up. All the characters are completely made up – and none of you hometown friends are going to convince me differently. Well, maybe there were a few minor characters I might have pulled a bit of this or that from someone I remember from years ago. Maybe. The thing is, all my characters in all my books probably pull a little of this or that from people I've met or read about or imagined over the years. That's where characters spring from – that mysterious well of experience and imagination in a writer's head.
I did enjoy writing about Jocie Brooke and her family and friends in Hollyhill. I especially liked it when Jocie and Wes, who was a grandfatherly figure to Jocie, got to talking. In Scent of Lilacs, I have them thinking about writing a book called The Hollyhill Book of the Strange.
So guess what? Jocie and Wes are writing it now to celebrate the re-issue of the Heart of Hollyhill series. Once a week I'll be visiting Hollyhill and let Jocie or Wes or who knows who in Hollyhill tell us what's going on there. I started to just substitute the Hollyhill posts for my regular Wednesday night posts here on One Writer's Journal, but a name like "The Hollyhill Book of the Strange" simply cried out for its own space. So here's the Hollyhill link if you'd like to go over and see how Jocie is introducing her new venture. With a little help from Wes, of course.
If you grew up in a small town or community, I'd be glad to hear the "strange" things you might remember about your towns. Who knows? Jocie might suddenly remember something along the same lines that might have strangely happened in Hollyhill. 🙂 Small towns are great places to grow up, but they are also hot beds of interesting and unique characters who give rise to some entertaining if odd stories. Maybe even a little strange.
Let me know what you think. Either here or on the new blog. Leave a comment here or there before March 1 for a chance to win an autographed copy of Scent of Lilacs. I'll give away three copies and your name will go in my hat twice if you comment both places. Thanks for giving Jocie's new venture a try. Happy reading!