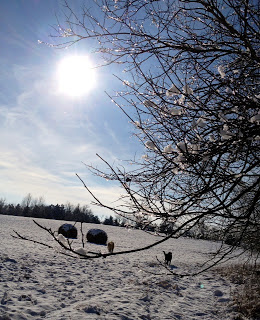 2013. Now that's a number that can make you sit up and take notice. I don't know why, but it just seems more in the future than 2012. Maybe that's because it is – in the future. The year to come. A year full of the unknown. Good unknowns. Perhaps not so good unknowns. Would you like to know what waits for you in the wings of 2013? Do you want to know the future? Or would you rather take each day as it comes?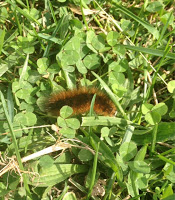 I think I'd rather take the days as they come. Of course, I do like looking ahead to see what the weather is going to do. Not that the weather people always get it right. Maybe that's part of the fun of watching the weather – to see if the forecasts happen. Sometimes they don't get it right any better than the wooly worms. I saw this little worm last fall and wasn't sure if it was forecasting a cold winter (all black) or a warm winter (all brown).
The weather forecasters did get it right Friday. We had snow. Lovely snow. Great snowman making snow for the kids and the young at heart. I'll claim being young at heart for making a little snowman when I went out to clear off my front deck. Turned out to look more like a snow teddy bear, but still fun. I put a picture of it on my Facebook author page. I like a little snow each year. Fun for walking with the dogs, Oscar and Roxie who both like the snow. Fun for taking pictures like the one up top that surprised me with the sun glow.
So I'll just step forward into 2013 taking one day at a time. That's the way we're having to do it with Mom. We never know how she'll be each day. She hasn't felt well this week and it's bothering her sleep. Sometimes she's ready to get up at midnight. Needless to say, I'm not. So I guess we're taking it one night at a time too. Maybe even one hour at a time.
But a new year is a time of promise and hope no matter how you look to the future. And I promised to reveal the winners of my Christmas giveaway today. So drum roll please. I've already contacted them all and have heard back from all but the winner of the first prize. That's Nancy. I know she's in the south, but don't yet know which state or which book she's going to want as her prize. She will get the bookends and that book of her choice. Kristina of VA was the second prize winner. She picked my book, Angel Sister, and two other autographed books – Dark Pursuit by Brandilyn Collins and Troublesome Creek by Jan Watson. The winner of the "never won before" drawing is Dianne C. of Georgia. She gets the cute cat magnets (luckily she says she's a cat lover) and my book, Angel Sister. Then just because, I picked an extra winner, Peggy C. of Iowa. She wants Angel Sister too and I'm throwing in a surprise book for her too. Not sure which one yet, so we may both be surprised. Looks as if Angel Sister was the winner in this giveaway. 🙂 Thanks to all of you who entered the Christmas giveaway contest and especially to those of you who shared your Christmas joys and memories with me. I loved reading about your Christmases. We'll do it again in 2013. I'll be celebrating the re-issue of Scent of Lilacs in March, so watch for a new contest then. If you're signed up for my newsletter, you'll hear about it first. If you're not signed up for the newsletter, you can get on the list by clicking on the newsletter link on my website.
Wishing you a very happy 2013 with a hopeful forecast of blessings each and every day. Thanks for reading!
"We will open the book. Its pages are blank. We are going to put words on them ourselves. The book is called Opportunity and its first chapter is New Year's Day." ~ Edith Lovejoy Pierce.