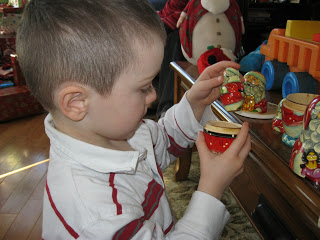 Figuring out the nesting Santa puzzle
Christmas Day is past. The kids came, shared lots of laughter, food and fun and then went home. My daughter and her husband and their two dogs just took off about an hour ago. The snow was only a dusting here so no problem for them to go south.
Lots of chores waiting for me. Got the dishwasher loaded and clothes in the washer. The floors will have to keep their paw printed pattern at least until tomorrow since I have to go to Mom's soon. The empty boxes are stacked in the corner awaiting a save or pitch decision. There are always chores. Always. But Christmas only comes once a year and I like to hang onto the Christmas spirit as long as possible. At least until the New Year's makes me start making resolutions about getting rid of extra pounds and exercising and sweeping away clutter.
But for now I've been scrolling back through the special joys and memories so many of you shared with me for my Christmas giveaway. (If you haven't entered yet for the bookends, books and cat magnets, you still can. Send me a message from my website to enter or leave a comment here with a way to contact you. Drawing on Saturday.)
First as you begin to think about taking down your decorations, I hope you'll remember the joy of putting up your Christmas tree the way Donna H. of Arkansas does here. One of my favorite times during the holiday season is putting up the
Christmas tree. Unwrapping each ornament that had so carefully been
stored away for the previous 11 months. Childhood memories of making
that yarn angel ornament in 5th grade…my daughter's laminated
construction ornaments from elementary school…the blown glass
hummingbirds of my mother's I inherited when she passed…the unique
nativity ornaments given to me over the years…the ornaments that
commemorate loved ones who are no longer with us…ornaments that remind
me to pray for friends & family who are no longer in close contact
with us. It is a time to reflect, pray & praise God for the true
meaning of Christmas.
I loved this tradition Jolynn's family has. What a great way to remember Christmases past. Here's what she says. One
of the favorite things I like about Christmas is writing letters to
Santa. We wrote Santa letters while I was young, thanking him for the
toys from last year, and asking for a gift that year. We even wrote
letters to Santa just for fun, when we were teenagers too, to set an
example for the younger siblings. Also because my Mom said if we
stop believing, we stop getting gifts from Santa too. We've done the same thing with my 2
kids also. Except that, Santa wrote a letter to them on the back of the
paper. My daughter is now 18, and will continue with this Christmas Eve
tradition, when she puts the cookies out for Santa too. We've saved most
of the letters, and we all like to read through them and laugh.
Michele of Maine shares about the Spirit of Giving, something we need to hang onto all year long. I think what I enjoy most about Christmas is the Spirit of Giving. For
the most part it seems people try to be more courteous during the
Holidays: they hold doors open or help people with packages, donate to
charities, take time to talk to others in shopping lines, etc. It can
certainly bring out the worst in some (I've worked in retail customer
service for 20 years!) but when you see someone go out of their way to
do something special for someone they don't know, it overshadows all the
negative aspects.
Marjorie shares a childhood memory that shows how things have changed over the years.
I thought that you might enjoy a story from my
childhood. I am 83. Back then we only had Coke to
drink at Christmas. We would receive a coupon that
would enable us to purchase a carton of six small
bottle Cokes for $.15, yes, $.15. My Mother didn't
like Coke, so I got one, my older brother got two, my
Dad got two, and Santa Claus got one. When I realized
who actually got that last Coke, I really gave my Dad
a hard time, and I teased him about that for the rest
of his life. Family and celebrating the reason for
Christmas is what it represents to me.

Norma Jean remembers a very special gift and how it helped her give a very special gift the next Christmas.
My
favorite memory from Christmas is the year I turned 14. I still claimed
to believe in Santa even though by then I knew the truth but I
subscribed to the theory that Santa is the kindness that everyone does
throughout the year. I
came downstairs to find my very own sewing machine. Now for an only
child with a widowed mom in the late 1960's that was quite a gift when the
money was tight and mom was only working part time while I was in school. The
next year for Christmas I made her new curtains with that machine and
my mowing lawns money, and put them up before she came down Christmas
morning.
Norma Jean says she still using that sewing machine 53 years later.
And now for some very touching Christmas memories. Lisa S of Nebraska shared a beautiful memory. My best Christmas memory was when I was 5 and my brother 7. My brother
and I were adopted and it was our first Christmas with our new family.
We went from an orphanage to a huge farm house. Our new parents were so
excited to have children at Christmas that they each shopped alone
without the other one knowing. We couldn't believe how many presents
were under the tree. It was also a surprise to our new parents as
well. The previous Christmas we did not get any presents because
someone had stolen the presents that were donated, so we weren't
expecting much. I remember the smiles on their faces as we opened the
presents. The house also had beautiful decorations and
traditional Christmas cookies. Our father is now in his 90's and our
mother is 7 years younger. I don't know how many more holidays we will
have together, but every one has been wonderful because of
their caring for someone else's children. Because of great memories,
Christmas is my favorite holiday.
Peggy C. had a different experience than Lisa's, but shares how a simple act of giving can make a warm memory that lasts a lifetime. She shared this story with me last year, but that's the great thing about Christmas memories. We never get tired of hearing what makes Christmas special. Here's what Peggy says. I love Christmas as we buy a tree in the container and then plant it on
our land where we just built a house in a rural area. Then what I cherish is a Christmas stocking with my name on it that I've
had for 50 years. The stocking was given to me by my foster brother's social worker. She
brought one for all 15 of us and I love mine. We all were
eventually kicked out or sent our own ways as my 1st foster
mom died and my foster dad married a woman who didn't want foster
kids, only hers. So my grandma adopted me and my foster sister who was
the same age as me. That stocking brings back such good
memories and also bad, but I will never forget that social worker and that day
when she gave me a most cherished item.
The story Deborah D. of Pennsylvania shared with us reminds us that things can never be as important as our loved ones. My
favorite Christmas was in 1982. My sister at 3 1/2 years old was
diagnosed with a cancerous brain tumor on Nov. 16, 1982. On November
17, 1982 she underwent emergency surgery to remove the tumor that was
the size of a large egg. At that time she was in the hospital for two
months. Since Christmas was on a weekend that year the doctor gave her a
pass to come home for the weekend but she had to be back in the
hospital that Monday. My dad just got laid off from his job and we
didn't have a lot of money for Christmas but the best Christmas present I
received ever was when my dad
pulled in
the driveway with my mom & my sister. My sister ended up staying
in the hospital for two months and had to get radiation but she came
through that scare just fine. Unfortunately, she was diagnosed with
breast cancer in July of 2012. She has to go through Chemo &
radiation for this but we are very hopeful that she will get better. (Prayers going up for your sister, Deborah.)
Nancy B. of NY shares some of the best ways to celebrate Christmas. What I like best about Christmas is the tang in the air, the smell of our
Pine Trees..the joy I see on my pet's faces when they get their goodies, and
early morning Christmas Mass! My family is budget oriented so hence no big
gifts. Happiness is in reading a good book, the family gathered around the
table and the joy of being together. To celebrate the Season all it takes is
love in your heart.
May the love in your heart let you savor the Christmas Spirit all year long. Did you enjoy reading about the Christmas joys as much as I did? I hope so, and it's not too late for you to share your Christmas joys with us here in your comments.