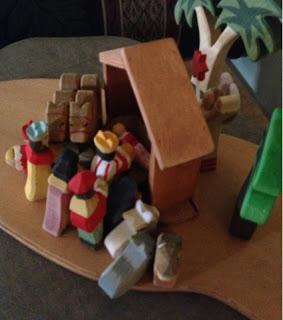 I like Nativity Sets. I have three. One in minature, one that my daughter gave me several years ago that is fragile, and one that's made of wood so the grandkids can arrange the figures to their hearts' content. One of my granddaughters set up the one in the picture. She has all the people, and the animals too, pushing in close to better see the Baby Jesus. That was what the writer of the devotional on the back of our bulletin said we needed to remember – to keep Christ in the center and our eyes on Him.
It's been a weekend of tears. There are no words to ease the despair most of us have been feeling since the terrible school shooting as we thought of those children so senselessly murdered and the teachers and workers giving their lives to try to stop the horror. Our hearts ache not only for the mothers and fathers, but for the sisters and brothers, for the grandparents and aunts and uncles – the families who loved them. Who had Christmas gifts bought and ready for them. Who had their worlds shattered in a burst of evil. But perhaps even more we grieve for the lost promise of those young lives. We want to spin the world backwards and somehow change what happened, but we can't. We can only pray God's comfort down on those grieving families.
Families – that's what matters as we join our prayers and consider the important things in life. As most of you know, I'm having a Christmas giveaway on my website right now. And I asked people who entered to tell me what brought them joy at Christmas. The vast majority of responses spoke of family being what mattered most in having a blessed and happy holiday. Here are a few samples:
What I like best about Christmas is spending time with my family. Especially the grandchildren and seeing the love, joy and sparkle in their eyes. ~Connie
I like the joy of the grandchildren as they open their presents. ~Theresa
What I like most about Christmas is getting together with my family with the ultimate goal of having a day filled with love and fun. ~Janet
What I like best about Christmas… It has to be the time I get to spend with my family and friends. ~Dianna
My favorite part of Christmas is actually the Christmas Eve service that we attend as a family every year. ~Allison
The thing I like best about Christmas is getting to be with family. A little corny, I know, but that's what it's all about. ~Vickie
Not a bit corny, Vickie. Only right. These are just a few of the many who mentioned the joy of family at Christmas time. And so we are doubly sad since we know how we love our families and can so easily imagine the sorrow of the families whose children went to school but will never come home again. So we keep our eyes centered on the Lord and we pray and we hug our kids a little tighter this Christmas holiday.