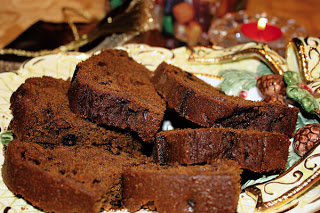 The 12th day of the 12th month of the 12th year – a once in a century day, but then aren't all days a once in a lifetime and then gone days? Still, it was neat seeing all the 12-12-12s. One couple got married at 12 noon. Another baby was born a few minutes after 12 noon. Both made the local news. The kids at school had fun with a bell that rings every day at 12:12 p.m. So at 12:12 p.m. on 12/12/12, a bunch of them made wishes. Why not? Some of them might have even been 12 years old. And making wishes is fun. Sometimes you can turn those wishes into goals.
What's all this have to do with fruitcakes? Absolutely nothing. I wanted to try to make my family recipe handed down from my grandmother and probably her mother before her have 12 cups of ingredients, but it actually has a dozen plus two. Even so, I'm sharing fruitcake recipes tonight as promised on my Facebook page. But first here's some fruitcake history borrowed from What's Cooking in America.
Fruitcakes have been around since Roman times. (No, not the same one!) In the 1400s, the British fell in love with fruitcakes when dried fruits from the Mediterranean became available. In the early 18th century, fruitcakes (called plum cakes) were outlawed in continental Europe as "sinfully rich." They survived that banishment to make a rebound to become very popular between 1837 and 1901. No proper Victorian tea of that era would have been complete without a fruitcake. Fruitcakes also were part of wedding feasts and unmarried guests put a slice of the cake, traditionally dark fruitcake, under their pillows with the belief they would dream about the person they would marry.
I don't know the history of my family's fruitcake recipe, but I do know that making a fruitcake was an expected part of the Christmas preparations. I tried to carry on the tradition a few years, but my family wasn't that fond of the cake and I could get my fruitcake fill at my mother's house. But here's the recipe as given to my mother. It's nothing like the fruitcakes most people imagine. It's a very heavy and moist cake with no sign of candied fruit.
Ann's Family Fruitcake
3 eggs 1 cup butter 2 cups sugar 4 cups flour
2 cups raisin 2 cups chopped figs 1 cup jam (probably blackberry) 1 cup nuts 1 cup buttermilk 1 spoon soda
1 tablespoon spice
(I have no idea what size spoon of soda or what kind of spices. I'm guessing the spices might be allspice, cinnamon, nutmeg, but you're on your own with that spoon of soda. LOL)
Spoon (I suggest using a big spoon this time) the batter into an angel food cake pan. Steam for 3 hours. Then bake @ 250 to 300 degrees for 1/2 hour. (I remember steaming the cake I made in a five gallon lard can. I propped the cake pan up above the water but I don't remember how. Gosh, that was a long time ago. Maybe I used metal cans.) After it came out of the oven and cooled, then I put apple slices on top to keep it moist and stored it in an airtight container. Some people soaked it with a little bourbon, but I stuck with the apples.
Okay, that was my cake. Way too much trouble for me to make these days. I'll stick to the hummingbird cake my family is so fond of instead.
Now here's Pat's Grandma Lydia's cake recipe she is so graciously sharing with us. The recipe has been in her family for over 70 years and she says it's the most unusual and delicious fruitcake ever. It does sound delicious. Almost has me ready to go to baking. Almost.
GRANDMA LYDIA'S FRUITCAKE
Step 1: 2 cups Maraschino Cherries & the juice in
the jars
1 pound raisins 1 cup
sugar
1 small
can crushed pineapple (about 1 cup)
1 cup
prunes, diced (don't omit. Gives the
cake its great taste and you won't taste prunes).
In a large saucepan, cook
the above ingredients together until there is not a lot of juice left. LET COOL.
This can be done a day or two before making the cake. Just cover and refrigerate the fruit.
Step 2: In a large bowl, cream together the following ingredients:
1 cup
white sugar 1 cup brown sugar
½
tsp nutmeg 1 cup Crisco
(use this brand if possible)
2 tablespoons vanilla ¼ teaspoon each of ground cloves,
½ teaspoon salt ground allspice and ground ginger
3 ½ tsps baking powder 3 eggs
In a very large
mixing bowl, mix together
all the ingredients above until light and fluffy.
Add: 3 ½ cups flour and mix
well again.
Add:
1 cup applesauce and mix again.
Add:
the fruits from Step 1 and mix very well.
Add:
2/3 pound pecans (optional, but great with pecans).
Put the
batter into 6 to 9 mini-loaf aluminum pans that have been sprayed with
Pam. Fill pans about 2/3 full. Set pans
on a baking sheet to hold them. Bake at 350 degrees for 40 to 60 minutes. Check with toothpick and bake until no cake
sticks to the toothpick and the cakes are a medium brown color. Let them sit for
about 5 minutes before removing them from the pans.
Thanks, Pat, for sharing your recipe. And all you cooks out there, let me know how it tastes if you give Grandma Lydia's cake a try.
I'll share some more Christmas stories on Sunday. Thanks to all of you who let me know what brings you joy during the Christmas season. I loved reading your responses and it kick-started my Christmas spirit. It's not too late to enter my Chrismas giveaway. I need to keep the Christmas spirit going to get all my presents wrapped and ready. So if you haven't entered yet, just send me an e-mail or leave a comment here with a way to contact you if you're the lucky winner of the books and prizes. You can check out the details at my website.

Thanks for reading and I'll be getting my cookie making hat on next week and start hunting those elusive hummingbirds for that hummingbird cake. LOL. I have no idea why they would have named that cake hummingbird cake, do you?