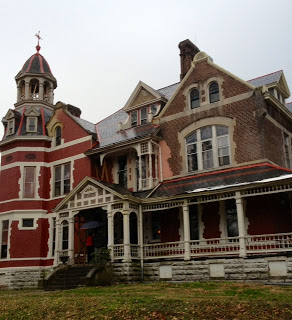 "A house is not a home unless it contains food and fire for the mind as well as the body." ~Benjamin Franklin
This house contains nothing but memories and echoes of what once was. It's a house in my town that has always been a source of wondering for me. So when the current owners agreed to put the house in the women's club Christmas tour even though it's empty and doesn't have the first Christmas decoration, I, along with dozens of others, rushed to walk through its front doors and get a look inside. Ever since I was a kid, I had looked at that tower and thought what a wonderful place it would be to scribble my stories. I even used it in A Kindred Spirit, one of my books for young adults and had my heroine have an artist studio in a similar place or at least what I imagined the place would be like.
I could have gone up in it Sunday, but the steps were narrow and I'm no longer the young kid who dreamed of being on top of that world. The house looked to be structurally good, but in need of major renovating as the former owners had let things slide until some rooms were near disasters. But even so, you had the feeling this old house could re-capture its glory if only…
A couple of rivers run through my Kentucky county and several creeks and springs that made this area attractive for distilling spirits. T.B. Ripy was one of the men who made his fortune producing whiskey here. In the 1890s, Ripy was the largest independent sour mash distiller in the world. He began the construction of the three and a half story Queen Anne brick home with a tower and a widow's watch in 1887. A year later, it was completed at the cost of around $85,000. That was a pile of money in 1888. Mr. Ripy spared no expense in making the house a showcase with over 30 rooms and some of those rooms decked out with elaborate ceiling moldings and mahogany, walnut, or cherry wainscoting. Stained glass over the doors had a planet motif.
Walking through the house even with no heat, no lights, no furniture, thick dust everywhere and an occasional hole in the floor or ceiling, you still couldn't help but be impressed by the house's grandeur. You could imagine the Ripy daughters and friends descending the beautiful stairway in their colorful ball dresses. You could hear strains of the hired musicians coming from the double parlors and almost see the couples dancing.
That was the way the richer folk lived. My family on my father's side dabbled in distilling, but gave it up. By the time I came along, they were all farming folk, happy to have their drafty farm houses. At least those houses were cool in the summer time.
Since we're talking houses, I've got a 1963 Christmas story to share about a family and a house in Maine. December 23 was Jackalyn's father's birthday. The family was planning a surprise birthday party for him. A first since he'd never had a party. Jackalyn can tell you the rest of the story.
"We lived in the house owned by my Grandparents and the house my father was born in. My Grandparents had just done some wiring in the house so my 2 older brothers could have the upstairs (the Attic for their bedroom) as they were now teenagers and wanted their own space. As we were getting ready for my dad to come home, we could smell a funny odor coming from the attic. Mom checked it out and our whole upstairs was engulfed in flames. My mother got us all out of the house safely and was able to ring in the fire on the box on the corner. Now my Dad's workplace was within eye shot of our house. He heard the sirens and got out in the road to direct traffic for the firetrucks to get through. When someone told him it was his house, he ran to the house, but by this time an uncle had come and got us kids in his car and took us to my mother's mom. Dad didn't see us kids and tried to enter the house to get us out. Then he saw my mother and found out we were safe. That night friends and family showed up for the party, not knowing about the fire. They all chipped in and helped in every way they could. My dad said he didn't care about his birthday. All he wanted was for us to be a family together in that house on Christmas Day after the fire caused by defective wiring.
Christmas morning 1963 we were all in the house having Christmas as a family. We couldn't live in the house and there was no electricity but my dad kept his promise. It was a Christmas we all are so thankful for and one that made us realize that all that matters was that we were together as a family. We did finally get the house fixed so we were able to move back. The house is still standing and I believe it is now one of the oldest houses in the city."
I can see why that would make a memorable Christmas, Jackalyn. Glad the house survived, but Jackalyn tells me in a follow-up message that her father never liked celebrating his birthday after that. He might have gotten too many jokes about his birthday candles setting the place on fire.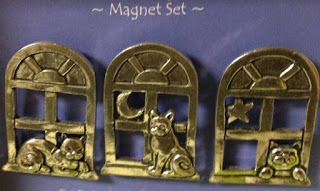 So lovely houses can make our Christmases even better.
If you haven't entered my contest, you still can. You can get more details on my website events page. These cat magnets are a prize along with a book for the winner of the drawing for those who say they've never won before. (The magnets are really silver. Don't know why they look gold here.) So send me an e-mail (you can contact me from my website) or leave a comment here and join in the fun if you haven't already.
As always, thanks for reading. I'll share more stories about your Christmases between now and Christmas day.