Our society must make it right and possible for old people not to fear the young or be deserted by them, for the test of a civilization is the way that it cares for its helpless members. ~Pearl S. Buck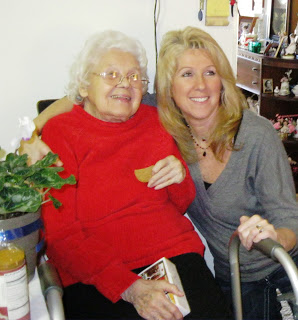 We just celebrated Thanksgiving and counted our blessings. I had plenty to count. Now we're heading toward the Christmas holidays. Maybe you were one of those out hunting bargains this weekend. Maybe you were one of those who stayed home because you would rather watch football players pile into one another on television than take the chance of being tackled yourself as shoppers stormed into the stores to get those deals.
If you were fortunate, you probably gathered with family or are planning to gather with family at Christmas. The holidays can be such fun for youngsters. They can be very busy for those youngsters' parents. Grandparents get caught up in the fun too while the kids are little, but then sometimes when the grandparents become great-grandparents and the years have piled on, they can't do the things they used to do at Christmas. They begin to feel unneeded. Perhaps unwanted. No longer is it their house the younger relatives gather at for the celebration of whatever holiday.
Not long ago I did a library book talk. After my talk, I spoke with a lovely older lady and asked her about her family. She had children and grandchildren close by, but she said they didn't have much time for her these days. She didn't want to be "excess baggage." Her words were spoken with a certain set to her chin and a determined look in her eyes that didn't quite hide the sadness.
I am sure her children and grandchildren love her, but life can get so busy. The grandkids probably don't think to call just to say hello. They probably intend to drop by and see their grandmother, but the weeks slide past, become months, and they don't find the time. Maybe grandmother doesn't hear as well as she used to and can't handle the noise of a rowdy household. Maybe nobody asks her how to fix a favorite recipe anymore because they've found their own favorite recipes. Maybe they think grandmother doesn't feel like helping with the cooking or whatever and insist she merely sit and watch. No one takes the time to listen to her even though she has great stories to tell if only the right questions were asked. And now she's feeling like "excess baggage." No longer needed by her family.
But we do need our older relatives. We need the strong roots of their love. I hope this lady's family proves her wrong over the holidays by including her often in their celebrations. And with joy. I hope they will treasure her while she keeps her health and her memories. I miss that so much with Mom. Her memories of our times together. Sometimes she doesn't remember she has children. Sometimes she thinks those children are still young and playing out in the yard. When she asked for Ann last week and I claimed to be me, she frowned and said she wanted the "young Ann." Oh, to be that young Ann for her. To be able to take her home to see her mother. To walk with her back through the years while she still remembered them.
I did talk with her about her growing up years quite a bit while her memory was working, but not enough. There's so much to a person's life that no one can ever know it all. I do hope I never made her feel like "excess baggage." And I hope if you have an elderly relative who might be lonesome over the holidays and missing the way things used to be for them, that you'll call her up or go by and spend some time with her.
Time – often the very best gift we can give. Thanks for spending a little time here with me.
What can you do to promote world peace? Go home and love your family. ~ Mother Theresa