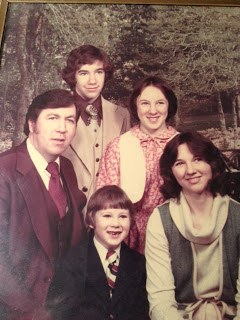 Family portrait after 15 or so anniversaries.
A wedding anniversary is the celebration of love, trust,
partnership, tolerance, and tenacity. The order varies for any given year. ~Paul Sweeney
Forty-eight years ago I was spending my last night at home in my
childhood bed. On the morrow I was getting married. Much too young. Only
seventeen and barely that. My husband to be was a few years older, already
twenty, but very young too. Our lives were getting ready to drastically change
as we were set to begin our life together.
I don't remember exactly how I was feeling that night, but I'm
sure I was nervous. Unsure of what to expect. Darrell may have been feeling the
same. Both of us young, ignorant about the realities of adult life, but ready
to be thrown into the marriage pond to see if we could swim. And somehow we stayed
afloat in spite of our youth. In spite of having two kids before we'd been
married three years. With the Lord's help, we kept our heads above the water as we struggled to make ends meet.
We farmed. We took care of the kids. We had loving family
support. We made it year by year. The years keep piling on. Now sometimes
people look at us as if being married to the same person that many years is an
amazing wonder, not a normal part of living. You know the good advice about how
to get older, don't you? Keep breathing. So that's the same with being married
a lot of years. You just keep on keeping on. That's what we've done the same as
many other couples I know.
I once read a little story about a woman who had been married
many years. When a new bride asked her advice on how to have a long and happy
marriage, she told her that when she married she made a list of ten things she
wouldn't let upset her about her husband. When the younger woman asked her what
those ten things where, the older woman said she didn't remember. She simply
assumed whatever came up to be friction between her and her husband was on the
list and she refused to get mad about it. So perhaps she was the farmer's wife the
following quote is bragging on.
Love is the thing that enables a woman to sing while she mops up
the floor after her husband has walked across it in his barn boots. ~Hoosier Farmer
Can't say I've ever been quite that understanding although I
have mopped up plenty of boot tracks in my time. I'm pretty sure I wasn't singing
a happy song while I was mopping. But we are still married. And there have been
many happy songs over the years.
Good times. Blessed years. Neither of us is much like we were
when we married. Life pushes us along a changing course and we are made
stronger by the experiences that come our way. Even so, love and commitment doesn't
have to change. We'll keep rolling along, trying to encourage one another,
enjoying the children of our children. Feeling blessed.
May God be with you and bless you. May you see your children's
children. May you be poor in misfortune, rich in blessings. May you know
nothing but joy. From this day forward. ~Irish Blessing

Thanks for reading and I hope you have a wonderful week of Thanksgiving.