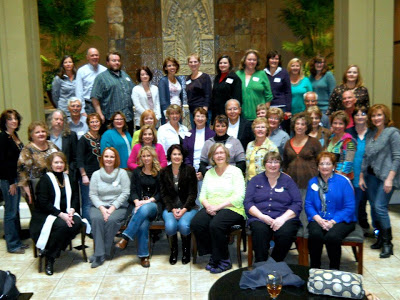 Drinking from My Saucer by John Paul Moore
I thank God for the blessings
That His mercy has bestowed.
I'm drinking from the saucer
'Cause my cup has overflowed.
That's what I was doing this last weekend as I attended a Christian Writers' Retreat. Drinking from my saucer because my cup of blessings was running over. This has been my year for retreats since it hasn't been but a few weeks since I came home from a writers' retreat hosted
by Books & Such Agency for its clients. That retreat was great out in California, but because I was working toward a deadline I wasn't able to relax and enjoy quite as much. First deadline has been met. Second deadline was met last Tuesday which freed me up to enjoy these days getting to know lots of new writers. Well, not writers new to writing, but writers I hadn't met before. Two days of great discussions and workshops about the business of writing. But some of the best parts were the late night conversations in the hotel rooms or the
getting to know each other over the tables at lunch or dinner.
I've been writing a long time. My first book was published in the general market in 1978, but for most of that time I wouldn't have been able to name over three other authors that I knew well enough to speak to on the street. Then I began writing inspirational fiction and that changed. Just as there is a brotherhood and sisterhood in the church, there is that feeling among Christian writers. I feel that connection with a few other writers in the general market now too. I've met a few people at book fairs in the last couple of years that I love sitting next to so that we can talk. This weekend that number mushroomed as I met so many new friends. Encouragement was popping up everywhere as well as great advice like being present in the moment.
Rick Pitino used to say that a lot when he was coaching Kentucky. He probably still does, but I don't hear his coach's show now, but he called it the "precious present." We can't always be looking back or looking ahead. No need in robbing today's joy with yesterday's sorrow or tomorrow's worries. Revel in the good things of now. And if the now is a hard time for us, give it over to the Lord.
But my "precious present" this weekend was good. It was a blessing. Such a blessing that my cup is running over and I'm drinking
from the saucer. The above quote is one verse of a poem written by John Paul Moore some years ago and was then turned into a song. Great words to the entire poem. But I've also heard some people say that if you're drinking from the saucer because your cup is overflowing, maybe it's time you shared some of the goodness from your cup with others. The writers at the retreat were doing that
as we shared with one another to keep everybody's cups overflowing with encouragement, wisdom and inspiration.
Hope your cups are overflowing with joy too so that you can drink from your saucers.
Save