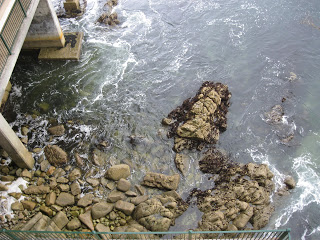 I've been in Monterey Bay all week enjoying a writer's
retreat hosted by my literary agency. I'm a long way from home in a lot of
ways. Distance for sure, but not as long as some of the other attendees. One
writer, Marion Stroud, and her husband are here England. They have been gifting
us all week with their lovely accent. Of course, they say we are the ones who
have the accent. Another writer, Cathy West and her husband are here from the
Bahamas. From one paradise to another.
Me, I'm here from Kentucky – still a long ways by road or air. Took me
all day to get here. Will take me all day to get home.
But distance isn't the only way it's a long way. I sit here
now in the pre-dawn light when at home it's mid-morning. The waves are crashing
against the rocks outside my window. At home, I'd have to walk a ways to hear a
creek running downhill over rocks. Here,
I have new and old friends, but no family. Here, I am among dozens of great
writers, experienced writers, who are ready and willing to talk and share and
give hints on how to improve. At home, all those writer ideas have to come from
me.
This is Steinbeck country. He lived here. He loved the place
and wrote about it in
Cannery Row
.
Yesterday at lunch he showed up in his slouch hat and sunglasses while we were
eating that fabulous dessert I posted on Facebook. Well, not really him, but an
actor who pretended to be him and gave us his history. Writers always are eager
to hear how our writers did it and he had a beautiful command on the language.
Steinbeck, I mean. So we enjoyed.
I am enjoying. Great scenery. Great history. Great company.
Today I have more opportunity to learn. I'll share more when I make that
looonnng trip back to where I belong – my home. My roots. That's what Steinbeck
had too. Roots here in Cannery Row.
Where are your roots?