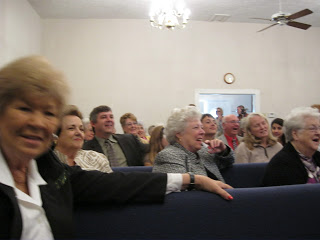 "Memory is a way of holding onto the things you love, the things you are, the things you never want to lose."
Goshen had a great 200th birthday celebration today. Our church was overflowing, something that hasn't happened our way for a long time. A lot of people who grew up in the church came back to celebrate and remember with us. We had to get out chairs. At a church, it's always good when the deacons have to go carry in chairs. We ran out of parking places and everybody had to park behind the other cars until some of the people were a captive audience. Several times we had to announce, please move your car so somebody could leave. But it was good. Everybody was happy and smiling as you can see in the picture.
Here we had gone back over to the church after a potluck spread that was a smorgasbord of delicious. Trouble was, there were so many people I wanted to talk to that I didn't have time to eat. I did get some of that butterscotch cooler dessert I love so much. Yum! But I didn't even get over to the table of salads. That's my favorite part of church dinners. Forget the veggies. Let's eat those fancy salads and desserts, right?
Several people got up to remember back when they used to come to Goshen and as you can see some of the times were funny. Laughter is good medicine and memories can warm the heart.
"To look backward for a while is to refresh the eye, to restore it, and to render it the more fit for its prime function of looking forward." ~ Margaret Fairless Barber

e b