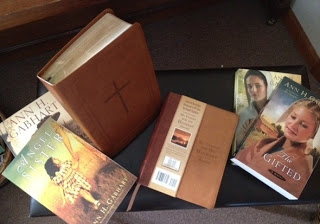 "There is still no cure for the common birthday." ~John Glenn
Birthdays! That's something you have to have once a year as
regular as clockwork. And the clocks seem to work faster the older I get. My
sister sent me a birthday card with the picture of a dog with his ears and fur all
blowing back like a race car just went past him. Inside, it said, and so
another year just zoomed by. And it ever more did.
A good year in ways. A hard year in other ways. But that's
how it is for most everybody. With the sunshine comes the rain. The rain is how
Mom is declining especially in her thinking ability. The sunshine is my
beautiful family and two more books published (Words Spoken True and The
Gifted) plus another one written. (Small
Town Girl – releasing in 2013). More sunshine is all the wonderful reading
friends I have.
To celebrate those friends and my birthday, I sent out a
reverse birthday card yesterday – a newsletter to everyone who has signed up to
be on my e-mail list. If you've signed up and didn't get a copy yesterday or
today, you might check your e-mail spam box. I hate it if my newsletter is
considered spam but I sometimes get things that aren't spam sent directly to my spam folder. I do have some people to add, so if you are on the list and didn't
get a newsletter or if you aren't on the list but would like to be, just let me
know.
At any rate, I'm giving away some books to celebrate my
birthday. I love giving away books and what is the very best book in the world? The Bible, of
course. So one of the prizes is a NIV Study Bible along with a copy of one of
my books. Another prize is a devotional and journal combined along with one of
my books. Last for those who say they never win, I've got a special prize of an
autographed copy of a Liz Curtis Higgs historical
fiction novels
, Mine is the Night
along
with that copy of one of my books. Deadline to enter is midnight EST on October
15. You can go to my
website
to enter or leave a comment here with a way to
contact you, should you win. You have to let me know you've never won anything
from me to get in that drawing.
One of my favorite quotes to read on my
birthday is something Satchel Paige said.
"How old would you be if you didn't know how old you are?" Not sure I know the
answer to that, but I'm thinking maybe around 35. I guess I could try to
figure out an answer to Paige's question from my mother. She no longer knows
how old she is and when she thinks about it she usually thinks somewhere around
forty or younger. She certainly doesn't believe she's all of ninety-two. No, that can't
be, because she's planning to go home and visit her mother.
Every day she plans
to do that. If only she could find her shoes. I told her tonight that it was
too late. We couldn't go anywhere so late and that we'd have to sleep here. She
doesn't like "here." Said it was a bad place. But when I told her it was too
late and we'd have to see about it tomorrow, she looked at me and made more
sense than she has for a while. She said, "And in the morning it will be too
early and later it will be too bright and then it'll be time to eat." I think
she's on to us, don't you? If only she was onto the fact that this is her home.
No such luck there.
Thanks to all of you who sent me birthday wishes. As I said
on Facebook, I felt like the popular girl at the dance. And a special thanks to those of you who came
by the Patriot Quartet's booth to talk to me during the NQC. This year my
Scottish friends from last year returned to buy three more books to carry home with them. Then I met a
couple from Sweden. Also talked to people from lots of
different states – Iowa, Michigan, Texas, North Carolina, Tennessee, Kentucky, to name a few.
A fun time.
Thanks for reading. Hope you have some fun times coming up for you. Oh, and how old would you be if you didn't know how old you are?