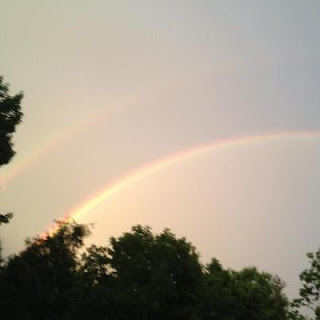 A double dose of hope
What expresses hope for the future better than a rainbow? And two rainbows are even better. Hope can be amazing, and perhaps it was that message of hope about my little great-niece on my Facebook page that has so touched people.
The honks are still coming in. If you didn't see my earlier post on this, the picture I posted was of my little niece smiling and standing behind her car with the message "Honk for No More Chemo." The fact that she's a cute little girl with an appealing smile didn't hurt either. But I'm not sure anything explains how the photo went viral and is still collecting comments at the rate of 100 every hour.
A little bit ago the post had been viewed 17,841,285 times. The picture had been shared 24,252 times. 1,470,011 people had clicked the like button and 50,317 people had taken the time to leave a comment. I read through the last 221 comments and here is a sampling from those.
"Honk Honk!!!!!!" (from Hawaii) (The honks are such fun.)
"I don't know her personally, but I will remember that face. What a gift!"
"I have not read a better post then this on. Congratulations."
"Good for you kid. Live a long and happy life. Don't know you but that doesn't matter. As for the parents, congratulations."

"St. Jude's is my charity of choice. Hurray Hurray." (In the comments I've read since I posted this on August 15, I seen a lot of support for St. Jude. Some of those who gave to St. Jude on a regular basis like the next commenter were extra pleased to see the picture of my niece and to know a child their money had helped to cure.)
"AAWW how great. God is good. We
always give to St.Jude. I am going outside to blow her a kiss, the wind
will carry it to her..GOD BLESS YOU ALL…♥" (Indiana)
"Chili's raising money for St. Jude's for the month if September. Please go in and donate." (Others mentioned fundraising opportunities.)
"more than like, LOVE!!!" (Saw this kind of comment often)
"Praise God & YOU ROCK KAELYN!!!"
"Let's have a Praise Party for Kaelyn!! Thank you Lord and congratulations young lady!" (There are so many praise God messages every time I read through some of the comments that I think we're having that praise party already!)
"double, triple, quad-triple LIKE this!"
"honk honk honk great news happy for all of you" (Texas)
"This is awesome!! All the kids at St Jude are warriors and there is no better cause to donate to. Trust me I know." (Usually when I dip into the comments, I see at least one from a cancer survivor or a family member telling about a child who also was cured and now has children of his or her own. The saddest message I read was from the mother of a survivor who in his teen years died of a drug overdose.)
"Father God please Bless her with a lifetime of Remission. Thank you Jesus Amen." (So many wonderful prayers were offered up for my niece and her family and many more promises of prayers.)
"Honk honk !!!!! Praise God" (Georgia) (I have to admit I loved it every time I read a honk, honk comment. Great the way people got into the spirit of celebration.)
"Finally something worth reading!! GREAT NEWS!! Congrats!!"
"I don't know her but that is wonderful news." (I found it very touching that so many people were so ready to celebrate with this little girl they didn't even know.)

"HONKKKKK! nothing more then AMAZING!!" (And that is my feeling exactly – about my niece's great news of no more cancer and also the outpouring of support by strangers from all over the world.)
"And the people said………. AMEN!" (I think they did. Over and over and the amens [honks] keep coming in.)
Thanks for reading and I hope you have many reasons to celebrate life and hope as we move toward fall. We won't talk about winter yet. Enjoy the days and the seasons one at a time.